I have an ugly big toe. In fact, it's not just ugly, it's downright scary. It's bruised, it's broken and it's very, very ugly.
A tire landed on this ugly big toe a few month's back. It was a very big black tyre, not unlike most big black tyres, and it meant business as it crushed my ugly big toe.
Some young buck at the weekly training session (remember the Warrior?) flipped this big black tire onto my ugly big toe. It wasn't intentional but the result was something I'd rather keep hidden for the summer. Unfortunately that's not going to happen because summer has just arrived which heralds the annual arrival of the thong. And the arrival of the thong signals a very public display of my ugly big toe.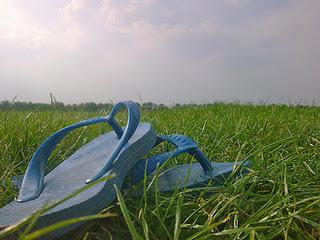 The summer thong.  Image: Flickr Creative Commons CeresB
Here in Australia, the thong is not a small item of lady's lingerie (although it can be). Other nationalities prefer to call it a sandal or the flip flop or even a beach shoe. Here it is simply called a thong or thongs. Like water and air, Australians can't - and won't - live without them. In the land down under, the thong could very well be more prevalent and invasive than the cane toad or brown snake.
The familiar thwack-thwack of the thong as it meets the floor, the squeak of rubber on tile, is as unforgettable as a dose of the clap. Thongs are worn in the supermarket, at the mall, down the pub and when walking the dog. There are man-thongs with bottle-openers on the base. There are she-thongs that are stylish and petite. There are mini-thongs that the tiny toddler might adorn or his or her tiny feet. I'm yet to see a pair of thongs for my pup but I'm sure there's some curious shop out there that sells such a variety.
Yet forget talk of why thongs are worn and for what purpose as there is a more important conversation taking place on Sydney's radio airwaves at the moment. Debate is raging as to where the thong
should
and
shouldn't
be worn.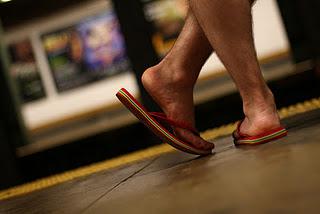 The city thong.  Image: Flickr Creative Commons eflon
Australian culture may be casual and relaxed, but some pundits believe there is a time and a place for the thong - thongs worn at a wedding by the blushing bride are an abomination and bare toes on display in the city's workplaces are a huge office "don't". That said, these occurences regularly take place and are not as uncommon as you might think.
Many a time a young lady is spied walking to work, Gucci handbag under one arm and a pair of cut-price Havaianas worn beneath painstakingly manicured feet. Is this a case of high fashion or just a terrible faux-pas?
So where should you wear those thongs of yours? Here's my view, for what it's worth:
Thongs are always okay in the summer months (October to March) but please keep them packed away in the middle of winter. Nothing looks as bad as a pair of shrivelled toes prematurely coming out of what should be a long, drawn-out winter's hibernation.
If in doubt, remember that thongs are always good for vacations. Also wear them on the beach and around the house, but try to keep the little fellers away from weddings and other formal occasions, particularly funerals and wakes.
If you're a diehard thong fanatic, fill your boots so to speak. Wear whatever brand of thongs you like but try to stay away from those things they call Crocs. A pair of over sized plastic green clogs on those dainty feet is not a great look.
Finally, try to refrain from wearing those thongs in the office. I'm a tad particular about the proximity of my co-workers in general and I'd prefer not to spend my day smelling the heady aromas of those same co-workers' feet.
Whatever your penchance, Australia is a country where the thong rules supreme and where the thong is as much a part of the landscape as a game of cricket or a stubby on the beach. 
So where do you wear
yours???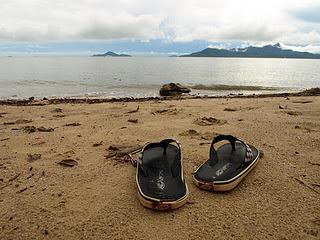 The beach thong.  Image: Flickr Creative Commons certified su
Travel Tips
Sydney