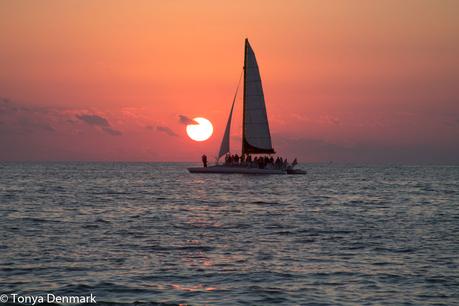 When you're on the west coast of Florida, it's a must-do activity to watch the sun melt into the Gulf of Mexico. Something about the gorgeous colors brings everyone out to enjoy nature's painted canvas. I'm definitely a sunset kind of girl. Here's the best places to watch the sunset in Clearwater Beach, Florida.
Pier 60
Pier 60 is the gathering place at the center of Clearwater Beach. The boardwalk is a hub bub of activity as everyone clamors to view the sun sink into the ocean. Plus, Sunsets at Pier 60 offer nightly celebrations with artisans and street performers. This is possibly the number 1 place to watch the sunset in Clearwater Beach.
Frenchy's
Frenchy's in Clearwater has six locations. Frenchy's Rockaway Grill is beachfront and makes a perfect place to have a beach drink in hand.
Calypso Queen Sunset cruise
This fun party boat offers sunset cruise for $19.95 for adults and $12.95 for children, ages 3-10. The 2 1/2 hour casual tropical cruise sets out on the water for an evening of dining, dancing and sunset viewing. A buffet is available at an additional charge, of $19.95 for adults and $9.95 for children. This includes complimentary beer, wine and rum punch.
Palm Pavilion Inn and Restaurant
Just on the other side of Mandalay Park is Palm Pavilion Restaurant, which is adjacent to Palm Pavilion Inn. Either the rooftop of the Inn or the expansive porch of the restaurant will provide spectacular views.
Jimmy's Crow's Nest
Jimmy's Crow's Nest is a rooftop bar perched high to give you a birds eye view of the. Each and unobstructed view of the sunsets in Clearwater.
Beachside
Really, anywhere you want to set yourself up will give you stunning picture-perfect views of the sunset. Clearwater Beach offers 2.5 miles of sandy shores to watch the sunset.
There's also a number of beachside accommodations in Clearwater Beach. If you want ocean side access, make sure you're on the western side. Clearwater Beach is on a barrier island and both sides have waterfront views.