Our trip organizer gave us the option to select the hotels in Leh Ladakh in three different categories ranging from low budget to mid-budget to expensive ones.
We decided to go for mid-budget hotels so that we get to stay in decent accommodation without burning a hole in our pockets.
He then gave us a few alternatives to select from mid-budget hotels and guided us well.  After discussion among our group and reading hotel reviews, we finalized the below 3 hotels for our stay in Leh Ladakh.
1. Hotel Sankar Residency by Enchanting Ladakh – Leh city for 3 nights
2. Naycho Resort- Nubra valley for 2 nights
3. Native Hut Pangong – Pangong for 1 night
Leh Ladakh Trip in 7 days: All about our Epic Itinerary
One thing we observed during our travel is that all the hotels in Leh follow the same type of Tibetan/Ladakhi designs to reflect unity and culture.
Below am sharing our stay experience in all the 3 hotels which will ease you in making the right decision.
1. Hotel Sankar Residency by Enchanting Ladakh – Leh city for 3 nights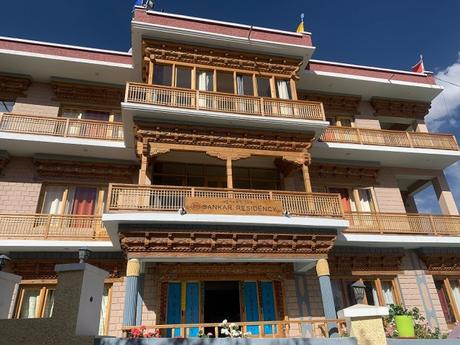 We had a comfortable stay at Sankar Residency. The room was hygienic, and spacious with all the basic amenities. The bathroom was quite big enough and squeaky clean.
The room has wooden flooring and large glass doors with a balcony from where we could see Shanti Stupa and mountain peaks.
They had kept cushions on the balcony where we could relax and get engrossed with Leh's nature.  The property also includes a reading area with a scenic view that felt cozy and warm. 
They have a huge collection of books in the library where you can pick your favourite book, read and help yourself to acclimatize to Leh climate.
The whole experience in the room, balcony, and reading area was soothing.
View this post on Instagram

A post shared by Jenifer $ayyed (@shaandaar_jenie)
Location:  Within 15-20mins you can reach Leh airport and Leh market. The good thing about the location is that it is near to the market yet distant enough, so no disturbance at all.
Service: Very good. The staffs are courteous and helpful.
Food: It was OK. I must say they lack in this department and if they work on it, this property will excel and get more recognition.




Rating: 4 out of 5.
Overall Verdict: Recommended.  I think these pictures are enough to convince you to stay here, right?
2. Naycho Resort- Nubra valley for 2 nights
When I searched Naycho resort and saw the gallery, I was exhilarated and couldn't wait to stay here.
This stunning property is located amidst the Nubra valley (also called the valley of flowers) and spread over a large area surrounded by lush greenery, flowers, and apricot trees.  You can see the spectacular view of the majestic mountain peaks which is so pleasing to the eyes.
Our rooms were on ground floor and it was neat, clean and spacious. It had all the basic amenities.
This resort has a badminton area, swimming pool, bonfires, sitting areas in this scenic atmosphere, so obviously we spend our limited time outside the rooms and rejuvenated ourselves.
We use to wake up to the sounds of birds chirping in the morning and had our tea in the garden.
When we arrived in the evening from Leh city and the next day from Turtuk, our tired bodies used to get instantly refreshed by having tea in the garden.
We use to play cards in this charming sitting area and enjoy our time. 
Location: It is located in heart of Hunder village.
Service: Excellent. The staffs are very co-operative and humble.  For Pangong, we had to leave the resort early morning, so we requested them to arrange a small breakfast for us and they did gladly.  They packed our breakfast which had sandwich very nicely and we relished it on our way to Pangong
They did the same for other tourists too, so sweet! Such a small gesture leaves a long-lasting impression.
Food: Delicious.  Our two-time meals were sumptuous and delectable.
The dining area has the alluring huge painting of Diskit monastery.





Rating: 4.5 out of 5.
Overall Verdict: Highly recommend. Usually, people prefer staying in a tent in Nubra valley, but I would suggest you to stay in this heavenly property.  This resort is a paradise and seldom will you come across such a place.
3. Native Hut Pangong – Pangong for 1 night
It is a cozy campsite near Pangong lake. You will get all the basic amenities including hot water, now what else can you expect at Pangong?
 It's just amazing that we get all the luxury here. (Yes, having all basic amenities at Pangong Lake is luxury)
The hut was neat and clean. The staffs were good. The only disappointing thing was that they didn't provide a bonfire. It would have been fun especially when it was breezy.
Location: Near Pangong Lake
Service: It was good. The staffs were courteous.
Food: Average. (Not complaining though) They have a separate dining area and it was warm, so we spend our evening playing cards over here.




Rating: 3.5 out of 5.
Overall Verdict: Recommended. If you are looking something more stable than tent, then this hut is a goop option to stay.
So these were the accommodations we stayed in in Leh Ladakh. All 3 were good, but Naycho resort in Nubra valley was the best in all aspects.
I hope you enjoyed reading this post.
Leh Ladakh Trip Cost for 7 days: Our Tour Package for 6 people