Looking for a great New Year's Eve night out in an exciting world location? I'm not presuming that you have the money/time/resources to just pick any location to ring in 2019, but if you can make it to one of these locations, you'll have a New Year celebration to remember for a long time.
The most popular thing to do for New Years is to party. Even if drinking and dancing is not your thing, most people will let their hair down at this time of year. But you also have other options. Chill-out New Year's Eve destinations exist too. Make New Year special by trying something different this year. Here are some of the best New Year's Eve destinations for an introduction to 2019 you'll never forget.
Where to spend New Year's Eve
(in no particular order)
Before anyone gets upset, these are not necessarily the best places but they are guaranteed to please even the most demanding of travellers.
1. Auckland, New Zealand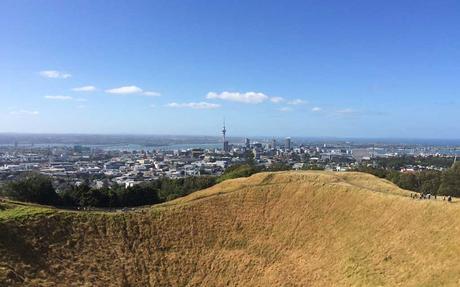 One of the first cities in the world to receive the new year. Celebrate 2019 before almost everyone else in this beautiful waterfront city. It's summer down under at the moment so you can enjoy a champagne on the beach and not freeze your ass off.
Check out the Highlife NYE party at the beautiful Auckland Wharf on 31 December. Expect DJ's, live music and performers, dancers, gourmet local and international food, and best of all, great views of the fireworks. This is Auckland's best waterfront location for partying this year.
For something a little more low key, try the New Year's Eve Sunset Groove Cruise, which starts at 8 pm and finishes at 1 am. Auckland harbour will be lit up with fireworks and party revellers. The cruise includes a DJ, complimentary champagne, dinner, and some of the best seats in the house for watching the fireworks.
2. Yangon, Myanmar
Yangon probably won't make the list of top 100 places to spend New Year's, never mind the top 10. But that's a shame as it's a fantastic new year's destination and you probably don't know that the fireworks display alone is worth the trouble of getting there. Fireworks over the Shwedagon Pagoda start the celebrations on the 31st of December and you'll want a camera handy to catch the very Instagram-friendly images.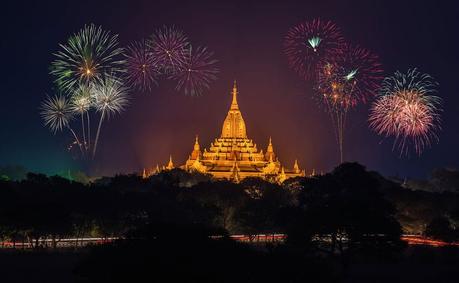 3. Dublin, Ireland
The city that has more pubs and bars than people (or something like that) knows how to do New Year's Eve in style. For style read "singing, dancing, and drinking like nobody else on earth". Prepare to make friends, get very drunk, and laugh. A lot.
4. Samoa and Tonga
For a more chilled out experience head to the tropical islands of Tonga or Samoa. Impress your friends as you celebrate the new year before them. These will be the first places in the world to see in 2019. If you've got the money to do it, you can fly to the west coast of the US and party all over again as the New Year hits that part of the world.
5. Rio De Janeiro, Brazil
Like the beach? Like to party in your board shorts? Enjoy dancing outside in the tropical heat? If so, head to Rio. You'll love it. Brazilians know how to enjoy themselves. The whole country seems to be constantly dancing and living in the moment. So you can imagine what New Year's Eve is like, right? Millions (yes, that's millions) of people head to a small beach called Copacabana every year to ring in the new year. For a New Year Celebration you won't forget too soon, Rio is a contender for top spot.
6. Bangkok, Thailand
The capital of Thailand has countless rooftop bars with spectacular views. These spots make for great vantage points for watching the fireworks at midnight. If you are a party animal and a young backpacker, head to Khao San Road to experience a world of craziness. This is the party street of Bangkok and it can get wild here on New Year's Eve.
7. London, England
It's probably going to be cold and wet but that doesn't dampen the spirits of the hundreds of thousands of people that pack the streets of London around the centre of the city, near the river Thames, at on the 31st of December. Every year, a spectacular fireworks show lights up the sky. You won't want to miss this so get out of the warmth of the bar/club/restaurant to catch the revelry in the streets. London is a city with endless entertainment options so once you've done the obligatory "happy new year" salutations, head to the bars and clubs that will be packed with jolly revellers.
8. Punta Del Este, Uruguay
South America's supposedly best resort is nestled on the south coast of Uruguay and really comes alive in the summer months (November- January). Easily reachable from Buenos Aires, Argentina and Montevideo, Punta del Este is a great place to spend your New Year's Eve on the beach, with a warm breeze on your face. Although it's one of the most expensive places for South Americans to celebrate, if you arrive with Euros or Dollars you'll have a bit more spending power.
9. Angkor Wat, Cambodia
Visiting an ancient network of Asian temples and ruins a few hours after toasting the New Year might not be everyone's cup of tea. But watching the sunrise over the ruins of Angkor Wat is a romantic, exciting, and unusual way to see in the new year. You can avoid the crowds by staying away from the celebrations in the tourist spots or you can head down to the party streets of Siem Reap, party like it's 1999, and grab a few hours sleep before heading out to visit this Unesco World Heritage site in comparative isolation. There won't be many people around so you'll experience it like at no other time of the year.
A great New Year's Eve idea for couples. And it's not expensive to fly to Cambodia from the UK, Europe, US or Australasia. If you're already in Asia then AirAsia is a great choice for a quick holiday.
10. Berlin, Germany
Probably the city that parties that hardest at New Year. Germans take their clubbing and bar-hopping seriously. Expect stalls of food, beer, and wine in the streets, fireworks at midnight, hard-partying locals and tourists, and an after-party scene that seems to last for a week.