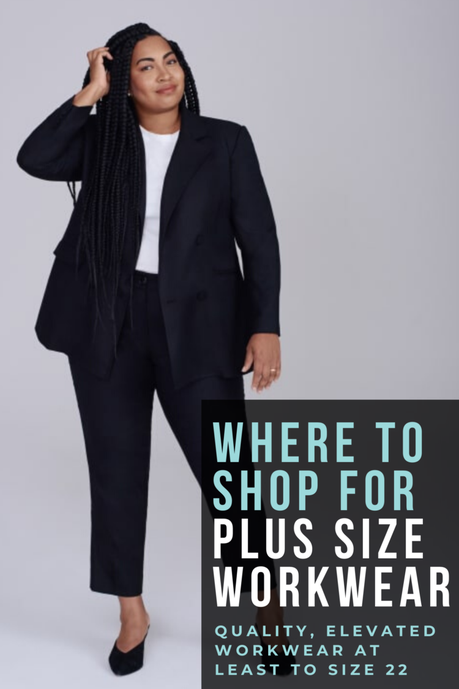 A reader recently DMed me on Instagram asking where she should look for plus size workwear. She recently was promoted at work and needed to level up from business casual to a more professional and polished look. At a size 22, she was struggling to figure out where to shop for plus size workwear that was the quality appropriate for her position and the style that fit her life and career.
"I've been promoted to a senior executive position at my firm. Yay! But also no! What do I wear? My usual work uniform is pants with a blouse or sweater or a dress. It is really a uniform I have 6 pairs of the same pants and 4 of the same blouse and three of the same blazer. I struggle to find good clothes in my size (22) so if I find something I just buy every color and hope it never wears out. I shop at Eloquii, Macy's, eShakti, and usually get my blazers at Torrid. I need new work clothes that tell clients I am successful and command authority in the office and I don't know where to start looking. Can you help me? Can I hire you?"
I'm not for hire, but I am happy to help as I doubt you are the only woman looking for quality professional plus size workwear. It floors me that 67% of the female population is plus-sized yet the selection for sophisticated and well-made suiting and professional workwear is so limited. I recently wrote about which retailers carry suiting in sizes 18/20 but this is more about workwear in general, and retailers that go up at least to a 22. I hope the below selections of retailers will help you find a great new wardrobe for you new position. Good luck, and congratulations!
Where to Shop for Plus Size Workwear
M.M.LaFleur
M.M.LaFleur was founded by Sarah LaFleur, a CEO in finance who was sick of only being able to find boring pantsuits to wear to the office. The line is elevated, sophisticated separates and dresses that not boring, and just as appropriate as a pantsuit. M.M.LaFleur goes up to a size 22, though their plus-size offerings aren't as extensive or creative as their smaller sizes. That being said, M.M.LaFleur is a great destination for sophisticated blouses, sweaters, and knits in luxe fabrics to wear alone or under blazers that will state you are in a position of power, not the person to fetch coffee.
M.M.LaFleur carries shoes, accessories, and jewelry to complement their luxe professional vibe. M.M.LaFleur is more than just a clothing brand; they pride themselves is styling. Whether it's using their online stylists to assist via email, chat, or phone or making an appointment at one of their showrooms for a personalized experience with a knowledgeable employee, M.M.LaFleur wants you to have a great experience shopping with them. Several plus-size readers have told me they find M.M.LaFleur to be incredibly respectful, skilled in dressing curvy bodies, and all over a positive shopping experience.
Henning
Created by a plus-size fashion editor who was frustrated by the lack of stylish and professional fashion in her size, Henning offers luxury fashion in sizes 12-24.
From suits to coats, Henning focuses on elegant wardrobe staples for a stylish professional. Most of the pieces are neutrals with the occasional seasonal colors tossed in for variety. Henning ships free to the United States and will ship to Canada with the fee being calculated at checkout. Returns on unworn pieces can be made within 14 days and when approved for the return you will receive a free return label.
Talbots
Talbots charges a flat rate of $8 to deliveries in the United States; fees apply for international orders. Returns can be made within 30 days online or in store and orders come with a pre-printed return label.
Lafayette 148
Lafayette 148 creates luxury, elegant fashion with a professional edge in sizes up to 26 or 3XL. The fabrics are luxe - wool, silk, cashmere, and high-end Italian cotton. The silhouettes are classic, understated, luxe. Unfortunately, while they have a decent size range they do not feature plus-sized models on their website so the photos below are from department stores that sell the brand.
Lafayette 148 is sold on their website, at department stores like Nordstrom, Bloomingdale's, Neiman Marcus, Saks, and in their freestanding stores. Their stores have style advisors and you can schedule personal shopping appointments with them to better know the brand and find pieces perfect for you. They also have the [email protected] program where you can try at home before you buy. Lafayette 148 offers free shipping to the US and $7 flat-rate for returns. They use Borderfree for duty-free international orders.
J. Crew
J. Crew offers up to size 24 in a decent selection of their collection, and some of it is in suiting. Readers have informed me that they have had luck with J. Crew suiting for fit and quality in their extended sizes. J. Crew rarely features a model with curves, most clothing available up to 24 is seen as "flatlay" and not on a body so it can be hard to envision how the pieces may fit on your frame.
However, with so many retailers focusing on sober shades for plus size workwear, J. Crew is a breath of fresh air with their bright colors and fun prints. Don't think J. Crew is only rainbow hues; they also carry these pieces in classic shades and neutrals. J. Crew ships to the US with a $5 flat rate. Returns of unworn or defective pieces can be sent back within 30 days by mail or returned to a J. Crew store. Mailed returns will have a $7.95 shipping fee.
Pari Passu
Last spring, my friend invited me to a trunk show for the New York-based plus sized brand Pari Passu and I became completely obsessed. Not based on standard sizes, but on three body shapes, Pari Passu offers elevated, luxe fashion for those who regularly wear a size 12/14 to around a 24/26. The three body types were chosen after analyzing the body scans of over 7,500 adult women over a size 12. Unlike many retailers that use a size 20 dress form that is just a size 6 made larger; Pari Passu created three dress forms matching these body scans for a more accurate fit to accommodate a range of curves.
Pari Passu has its own website which has the largest selection of their clothing, but they also are sold at Nordstrom. Pari Passu is designed, created, and shipped right from the Garment District in NYC. I had the chance to visit Pari Passu in New York; visit my Instagram and there is a "highlight" called "NYC 2/20" and in there I have the tour of the company. Shipping is free to the United States, fees apply for international orders. You must call to schedule a free return of unworn clothing, there is no return window date on their site at the time of printing.
Marina Rinaldi
Marina Rinaldi was one of the first brands that offered elegant fashion in plus sizes and it continues to provide stylish, sophisticated fashion up to size 24. The line has a mix of elegant workwear with dressier pieces and a lot that can skew luxe loungewear or Leisure World. Like Eileen Fisher, tread lightly with this brand as not all will command authority in the workplace.
While Marina Rinaldi was at the forefront of luxe plus size clothing, their website is limited in showing the pieces on plus size models. Their website sizing can be confusing to those unfamiliar with the brand; their size chart will help connect it to standard sizing in the US and other countries.
Tahari ASL
Tahari has been a workwear staple brand for years, offering elegant and classic workwear. Tahari ASL goes up to size 24W and is sold on their website and while many department stores carry this brand, the only one that carries their workwear in the full range of plus sizes is Dillard's.
While many plus-size retailers focus on dark colors, Tahari ASL is one that offers vibrant hues and cheery prints in plus sizes while also maintaining professionalism. Tahari ASL offers free shipping on all orders of $150 and more and a flat $8.95 fee on lower-priced orders. Returns have a 45-day window.
Gravitas
Gravitas is an interesting clothing line that offers sizes 0-24 but they don't like using those numbers and instead created inspirational names for each size. It is clothing that helps a woman exude the confidence, the skill, and the gravitas she has inside.
What makes Gravitas unique is the clothing has built-in structure, shapewear, and details for comfort, moveability, and support. You can learn more about their shapewear collection at this link. Gravitas offers free shipping within the United States. Returns have a 30-day window and a $10 restocking fee will be taken from your total.
Halogen
Halogen is an in-house brand available exclusively at Nordstrom. The brand comes in sizes up to 4X or 28W and is reasonably priced clothing great for weekends, Business Casual, with several pieces appropriate for a more professional office dress code.
Halogen's plus size selection isn't as extensive as their Misses offerings, and seems to skew more casual, but you can still find some gems from the brand. Nordstrom is great for online shopping as deliveries and returns are always free and there is no specific window length for returns.
Eileen Fisher
Eileen Fisher is known for loose pieces in natural colors from natural fabrics: this isn't a look that commands authority in most workplaces. However, Eileen Fisher carries several pieces that I think are similar to M.M.LaFleur in being elegant, elevated separates that can be quite professional looking. I'd steer clear of their linen, chambray, and hemp cotton and look at their ponte, cashmere, and silk. Eileen Fisher is available up to a 3X.
Universal Standard
Universal Standard carries sizes 00-40 and some pieces like trousers come in more than one length. What makes Universal Standard unique is instead of grading up and down from one fit model, they have a fit model for each size. They also show each piece of clothing on the site worn on a range of body sizes and shapes. This way, clothing is going to fit better, and fit is paramount for a professional appearance. Universal Standard has free shipping and returns (30-day return window) within the United States; additional fees apply for international orders.
ELOQUII
ELOQUII offers free shipping over $125 and a $7.50 fee for shipping lower-priced orders. They ship internationally and share the shipping rates at this link. New and unworn items may be returned within 30 days and the shipping fee will be deducted from the money you get back for your order.
Now, I'd love to hear from you! Many plus-size retailers now carry workwear, but where have you found quality, elevated pieces? Please share in the comments!