With summer just around the corner, we've been looking forward to warmer weather, lighter nights and days spent relaxing in the sun. Many people choose to plan a romantic getaway over the summer break, with Europe being one of the top destinations for loved-up couples all over the world. If you're planning to propose on holiday this year and want to make it an unforgettable occasion, Angelic Diamonds, have put together this helpful guide to the best places to propose:
France: Mont Chèry, Val d'Isère
Skiing holidays are popular with couples no matter the time of year – and with such a long season (November to May), Val D'Isere is a great choice. In fact, more Britons choose to take their annual skiing holiday here than anywhere else in the world. Part of its popularity lies in its differing slopes — there are pistes for all abilities and if your other half discovers that skiing is not for them, you can head to La Folie Douce (the famous après-ski bar).
You can head up the slopes to enjoy plenty of awe-inspiring views. But, for a proposal, you might want to head somewhere warmer where you can enjoy a meal and drinks with your other half. One place to do this is at La Grande Ourse, a restaurant situated on Mont Chèry. It offers an authentic fine-dining experience where you can get your own personal chauffeur to take you up the mountain in a Kassböhrer (a specialised snow trailer). Here, you will be met with views from an altitude of 1725m and enjoy a five-course meal in the restaurant — a memorable place to get on one knee.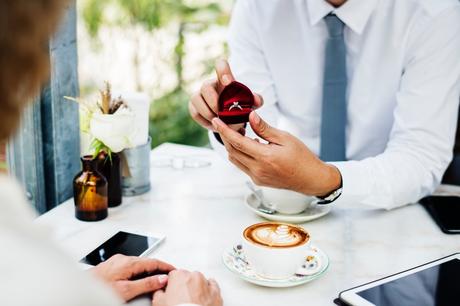 Barcelona: Los Bunkers del Carmel
Also known as 'the bunkers of Carmel', Los Bunkers del Carmel is a viewpoint from which you and your loved one can enjoy views of the whole city of Barcelona. Now considered a viewing platform by many, it was once part of the anti-aircraft battery that was used during the Spanish Civil War. With a panoramic view of the city behind you, pop the question to your other half to make it a moment to remember. See photos from a wedding photographer who captured a beautiful moment here.
Unfortunately, you can't get transport all the way to the very top. Instead, you can get the metro to Alfons X and walk 30 minutes from here or you could get the bus from the city center which takes you closer to the top where you will have to walk around 10 minutes. The outstanding view of the city is best at sunrise. However, if you and your partner can't face getting up that early, you can head there for sunset instead.
Prague: Petřín Hill
Peaceful Petrin is centred around this hillside park, where secluded gardens and winding pathways lead to panoramic views of the city. You can take a funicular to the top that departs from Ujezd Street in the Malá Strana. On top of the hill, there is an observation tower designed to be a mini version of the Parisian Eiffel Tower where you must climb 299 steps to reach the top to be rewarded with 360-degree views. You could pop the question in any of the beautiful landscaped gardens or head to a restaurant in Petřín park, such as Nebozizek which overlooks the Old Town, Prague Castle, Charles Bridge, and Vltava River.
Whilst Prague does have a reputation for attracting hen and stag parties, it shouldn't be overlooked as a romantic destination. There are many sights to see in Prague that don't involve the local pubs and one of these is Petřín Hill. Prague is an ideal place to visit with your other half and offers the perfect balance between beautiful landscapes and quirky bars and restaurants. In recent years, it has become an exceptionally popular holiday destination.
UK: The Lake District
The Lake District is the most popular national park in the UK – and it's easy to see why. With an array of scenic walks, the chance to go for gondola rides on the lakes and great literary connections, this popular destination is sure to inspire your romantic side and is perfect for outdoor enthusiasts. For a moderately easy hike, Cat Bells mountain near Keswick offers breath-taking views over Derwentwate. With the recent surge in popularity of scenic country house weddings, you could also start planning a return trip one day – The Lake District is one of the most popular destinations to get married in the UK.
Iceland: Grotta Lighthouse Reykjavik
Nothing could be more romantic than enjoying the beautiful northern lights with your partner. The best time to see the lights is from October to March when the sky is clearer. You don't have to book an excursion to see the lights and the phenomenon can often be seen at Grotta lighthouse which is situated outside of downtown Reykjavic where light pollution is low. You can walk here but if you have hired a car, due to the cold temperatures, it could be best to drive to the spot. For a romantic proposal, pop the question outdoors with the lights dancing behind you or for a more private setting, ask the question in the warmth of your car.
There's also plenty for you to do as a couple in Iceland. You could head to Hafnarfjörður which is around a 20-minute bus ride from downtown Reykjavik which is complete with handicrafts and live music.