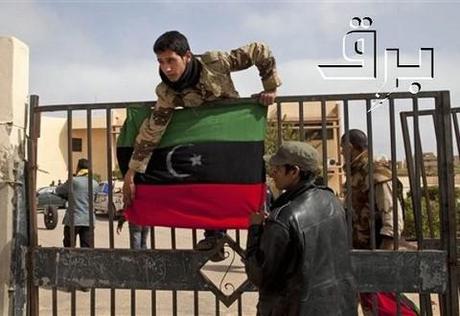 Libyan rebels. Photocredit: شبكة برق | B.R.Q http://www.flickr.com/photos/brqnetwork/5510820872/sizes/m/in/photostream/
Like some sinister version of Where's Wally, rebel forces in Libya are currently searching for their erstwhile despot, Colonel Muammar Gaddafi. Everybody's hoping that the search doesn't go on too long. Has he slipped out of Tripoli, the Libyan capital, through a network of underground tunnels? Has he gone south, like a swallow, to tribes that are friendly to him? Information is flying around as rumours rise and fall. Gaddafi has released a message urging his followers to "purify" Tripoli. This message will be analysed in the hunt for clues. His defected former Prime Minister, Abdesallam Jalloud, says that he'll either be in the south of the city, or he'll have fled. If he's in the city, he'll wait for the roads to clear, and then leave, perhaps disguised as a woman. If he's gone south, he'll probably flee into the desert.
His capture would be a symbolic event that would pave the way for the new government (the National Transitional Council) to take over. He could also provide a flashpoint for resistance to the new government. Saddam Hussein, for example, managed to hide out for eight months, gathering troops around him. The rebels have also placed a bounty on his head, offering $2 million to anyone who brings him in, dead or alive. The National Transitional Council promised to pardon any associate  of Gaddafi  if they turned in or killed him.
Defence Secretary Liam Fox said that intelligence will be used, whether it's ground agents or satellites looking for unusual movements in the desert. They'll also be intercepting communications. Gaddafi himself claimed to have appeared, incognito, on the streets of Tripoli earlier this week. This cannot be verified. He might possibly have gone to his hometown, Sirte, where he would make his final stand. The White House is debating how best to pursue the security of any Weapons of Mass Destruction that have been left lying around.
The frenzied hunt. The Scottish Daily Record reported that Libyan rebels have pounded an apartment block, mistakenly believing that Gaddafi was holed up inside. The block was near Gadaffi's headquarters, Bab Azizya. Many rebels were killed as loyalist gunmen fired; also rebels fired on their own in the frenzy. Rebel fighters have advanced on Sirte, but that coastal town is heavily guarded by loyalists. The Mirror reported that a farm-building to the south of Tripoli, where Gadaffi was believed to be hiding, has been destroyed.
"Don't leave Tripoli for the rats. Fight them, fight them and kill them," said Colonel Gaddafi.
The horrors in store? And even if the rebels do find him, said Mark Russell on Newser.com, (based on an article on Reuters), there's plenty of nuclear material in Libya – enough to "make a dirty bomb." A former UN nuclear inspection chief, Olli Heinonen, warned rebels to "move to secure it." There's enough "radioisotopes, radioactive waste, and low-enriched uranium to be dangerous," which might prove a target for "desperate loyalists or unscrupulous looters." Security experts are worried that Gaddafi's supporters might turn to chemical weapons, reported Mary Papenfuss, also on Newser as Gaddafi still has the chemicals necessary for mustard gas. They're also worried that Gaddafi might fire his Scuds on the civilian population, or even at Europe – apparently one was launched from Misrata, but missed its target and fell into the sea.
Could Gadaffi be delusional? Jonathan Rugman on his Channel Four blog said that Gadaffi might be in "his desert stronghold of Sabha, from where he could escape to Niger or Chad. After all, he hasn't been seen in public in months and he could have travelled there weeks ago." Alternatively, he could be "messianic and delusional enough to have stayed in his capital to fight to the bitter end. A better ending in his eyes perhaps, than being tried for crimes against humanity either by his own people or by the International Criminal Court."