How I get to Zululand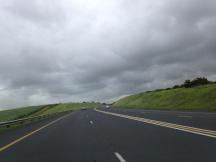 N2 to Zululand
First of all when I travel to Richards Bay for business I fly to Durban's King Shaka International Airport (KSIA) then drive approx 145km to Richards Bay. Why? To chop a long story short, the last plane back to JHB once ran out of fuel and we had to fly to JHB via King Shaka so as to refuel (3hr trip, it was supposed to be 1.5hrs), besides that propeller is something else

.
Lovely road but there is always traffic cops on the road. Especially the Mandeni area. There isn't much traffic all the way although you lose the two lane system to one lane system as you get closer to Richards Bay. From a scenic perspective there isn't much worth seeing. You don't even see the sea all the way to Richards Bay although you will be driving along the coast. They are 3 toll gates costing you R8.00, R9.50 and R32.00 one way. R49.50 in total so you better have R100 for return trip.
Where I stayed February 2013
The Protea Hotel Waterfront! Lovely hotel, very quiet, no outside cars zooming past, no noise in the corridors. Don't switch on the television and you will understand what I am talking about. This is the standard room. R1161 per night room only. Room only cost suits me fine cause I have a tendency of skipping breakfast. Yeah I know what you are saying. This is what my room looked like (thanks to the iPhone Panorama function)

The bed is very comfortable and I slept well the whole night. The furniture is great and they have a proper office chair with a desk (I felt  like I was back at the office!) *maybe even better than my office chair* Hope my boss doesn't see this

Below pic shows the view from my window at sunrise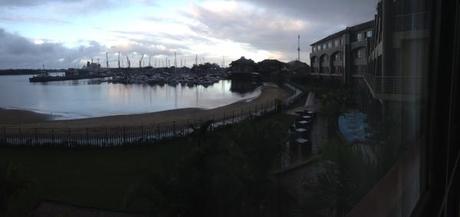 What I ate
First night I had a 250g Sirloin with Giant Hand Cuts with pepper sauce and onion rings. Well done! Yes all my meat MUST be cremated! at least that's what they say at the office. Dessert was some divine Banana Drama Waffles with hot caramel. YUMMY! I love bananas so yah.. the rest is history. Tip: Order room service they seem to put extra effort in the way the cooking is done and the way its delivered to your room (myView). Don't judge! The fries make me fat.. at least I had the next meal with veggies.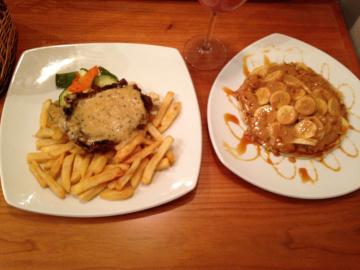 Next day I munched some Honey Mustard Chicken (grilled!) with mash and a creamy honey mustard. I kindly asked the chef not to add garlic and he said with pleasure! (How does that beat buffet) I tell you, I think room service gets special treatment.
The Problem with this venue
They are charging residents R30 per day for parking! Dude! It's not even basement parking. Your car gets cooked by the weather outside in the open and you pay them accommodation fees, dinner, breakfast and parking! I'm sorry but that's absurd, ridiculous!
The Traffic Officer!
Can you spot the speed trap in this 7 seconds video? Why so short, well there is this is thing called VINE for smartphones where you post and share 6 second videos (post for another day)' Check it out
Would I stay there again?
*DrumRoll* Yes ofcourse! Why? It's one of very few hotels where I actually sleep the whole night without working up 3 times because it's not my bed. The list number of times I woke up at this hotel was ONCE. So Yes I will stay there anytime. I have had breakfast here once but I was not impressed. P/S you can have a bite with your legs in water

One of the hot days highlights
Till Next Post!