While I don't actually live in the city right now (I am currently located just across the bay), I lived there for several years and I love being there, running there and eating there. Lately, I have seen many posts by friends, detailing why they love their particular home. I thought I would do the same.
First, a few suggestions for your reading pleasure:
- check out Lauren's post on
Eugene, OR
- why Lisa loves Minneapolis
- the "I Love Boston Project" by Kelly
- Missris is learning to Give
Pittsburgh
a Chance
If you have a post about YOUR city, let me know and I will feature it on my next Where I Live post!
Obviously, everyone knows about things like the Fisherman's Wharf and Alcatraz, but San Francisco has so much more to offer than that. There is great food (see previous SnackaPalooza posts), great weather for running and many things to do that aren't on the "Top 10 Touristy Things to Do" list. You want an insider's view? Here you go. Today we are going to talk about...
The Castro.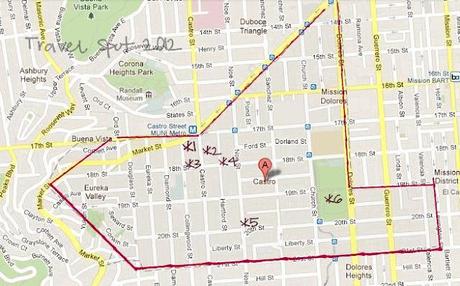 Your map, sir. Thanks to Google.
The Castro
is a neighborhood that looks similar to Texas, if it were upside down. (Kind of. Okay, maybe not.)  It is well known as being one of the first and largest gay neighborhoods in the US. It's center is basically 18th St. and Castro St, but the neighborhood spreads out pretty far. Yes, if you go there, you will see large men walking tiny dogs. But the Castro is so much more than that.
To get to the Castro, you can take the Muni train (K or L), which goes underground from downtown, where your hotel probably is. OR...you can take the
F-Market
, which goes above ground on Market Street and is a collection of old trams from different cities around the world. It cost $2 and is well worth it for the ride alone! But it also gets you to where you need to be!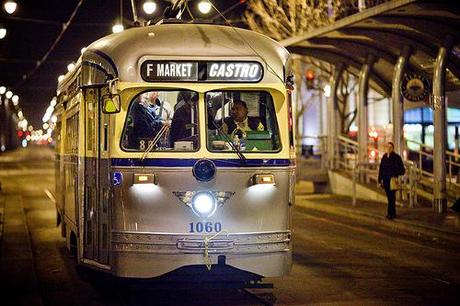 The F-Market (source)
First, you should have breakfast at
The Cove
(#1). It's not on the regular menu, but they sometimes have a corned beef hash eggs Benedict, which is SO good!
Next, go see a movie at the
Castro Theater
(#2) (which is conveniently located right across the street from the Cove). They play a lot of Indie and older films, and it is a great old theater with velour seats and gilded chairs. It's worth paying the entry fee just to see inside the theater.
Want some expensive cheese? Pop into
AG Ferrari
(#3) for cheese, olives, and a nice bottle of wine. 
Need a coffee? Check out
Philz
(#4) on 18th, just a block and a half down from Castro Street.
Now, the important part. Walk up Castro street, away from Market street (it should be going UP in numbers) to 20th St. When I say up, I don't mean North; you actually want to walk south, but you will be walking UPhill. Take a left (east) and head UP the hill (again). That
house on the left
(#5) is one of my many dream houses. Once you get almost to the top, you will have to climb up a few stairs, which will reward you with a pretty sweet view of the city. You will head back down the other side of the hill, which will lead you straight to...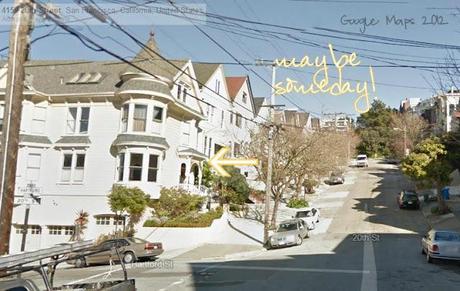 Sweet dreams were made of these (thanks to Google street view).
...
Dolores Park
(#6). On a nice day, this is full of people sunbathing, playing soccer and tennis, reading and just hanging out with friends. Plus, there is an awesome view of the city. If you are there on the right day (last I checked, it was the 2nd Thursday of each month) you can catch
Movie Night
, where an old movie is shown on a screen at the park. It's free; all you have to do is bring yourself and some wine and maybe a friend or two (and a blanket! You know what Mark Twain said!)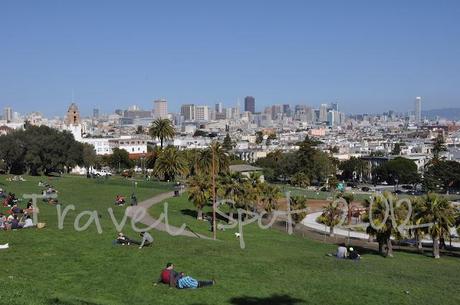 Who said it was the "foggy city"?
Have you ever been to the Castro? What's your favorite breakfast place in your city? Do you have a "dream house" somewhere?