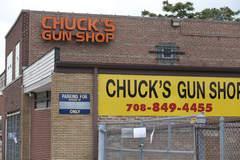 Chicago Sun Times
 via commenter Anonymous who refers to our antagonists as "gunsucks"
You might think the Deep South is the biggest source of the firearms in the hands of Chicago's criminals.
Maybe you heard about the less-restrictive gun laws in the South or the high-profile cases the feds have brought against gun traffickers moving weapons from Mississippi and other states to Chicago — the Dixie pipeline.

But the truth is most guns recovered in crimes here were originally bought in Illinois.
More specifically, in Cook County.

And the No. 1 supplier of those weapons is just a short drive from Chicago, Chuck's Gun Store in south suburban Riverdale.

From 2008 to March 2012, the police successfully traced the ownership of 1,375 guns recovered in crimes in Chicago within a year of their purchase.

Of those guns, 268 were bought at Chuck's — nearly one in five.

That statistic comes from a groundbreaking study by University of Chicago Crime Lab researchers, done at the request of the Chicago Police Department, which is grappling with an extra-violent 2012 that has seen a 28 percent spike in the city's homicide total compared to this time last year.

In their study, U. of C. researchers combed through gun-trace data to determine the weapons most likely bought by straw purchasers.

Those are people without criminal records who buy guns for felons — often at a hefty markup.
Fifty-eight percent of those recovered guns were bought in Illinois. About 19 percent were purchased in Indiana, 3 percent in Wisconsin — and less than 2 percent in Mississippi.

Cook County was the source of 45 percent of the guns over that period, according to the crime lab's study.
I used to say the guns probably came from Indiana, but this is fantastic. I'm sure many of the same guys who repeatedly refer to Chicago as proof that gun control fails, knew damn well where those guns come from but just weren't sayin'.
What do you think?  Please leave a comment.