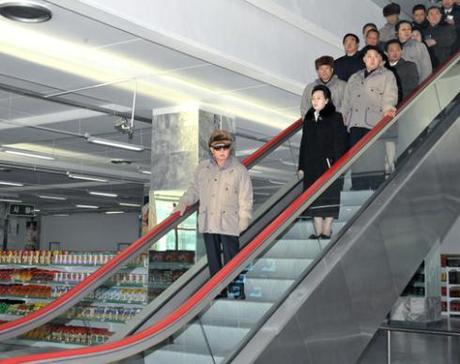 Kim Jong Il (front) at his last reported public appearance at the Kwangbok Market in December 2011. This was the last image of the late leader when he was alive telecasted in DPRK state media before he died on 17 December 2011 (Photo: Rodong Sinmun)
Chosun Ilbo, citing an anonymous source, reported in January that Kim Jong Il's death on 17 December 2011 was precipitated by his anger after major leaks were discovered in a dam at the Hu'ich'o'n Power Station's construction.  According to the unnamed source, "It wasn't just a crack. The safety of the entire dam was in question."  The leaks in the dam may have been due to rushed construction work, to complete the power station by April 2012, in time for celebrations of the 100th anniversary of the birth of the late DPRK President and founder, Kim Il Sung (KJI's father).  DPRK state media editorials and essays published in 2010 and 2011 termed "Hu'ich'o'n Speed" the new "Ch'o'llima Speed" and once piece described the power station as the "forefront of the drive for building a thriving nation."  The power station was completed and opened during a ceremony held on 5 April 2012 and, of October 2012, was supplying electricity to Pyongyang.
The railway route Kim Jong Il would utilized if, as Chosun Ilbo claims, he traveled from Pyongyang to the Hu'ich'o'n Power Station, then died en route (Photo: Google image; route drawn by M. Madden)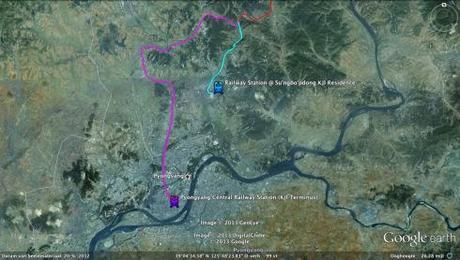 A view of the railway stations from which KJI would traveled from Pyongyang to the Hu'ich'o'n Power Station in December 2011, showing his main railway station in Ryongsong District, near the residential compound there, or the Pyongyang Central Railway Station VIP area which he also utilized (Photo: Google image; route drawn by M. Madden)
According to Chosun Ilbo's unnamed source, "After being briefed about the leak, Kim Jong-il lambasted officials and ordered them to repair it.  He rushed to make an on-site inspection of the facility unable to contain his anger and died suddenly."  The South Korean (ROK) daily also reported that "Stress about the trouble at Huichon was apparently the last straw after Kim learned that steel and textile manufacturing plants, also touted as key projects, had serious defects as well."  Kim Jong Il's last reported public appearance was his visit to the Kwangbok Department Store.  At the time of KJI's demise, the DPRK was also conducting two major interactions with the US in Beijing, one with US Ambassador Glyn Davies and one with US Special Representative Robert King.  Also, in Beijing on an official visit at the time, was DPRK Minister of Electronic Industry Han Kwang Bok, who was later removed from office.  It is possible that reports to KJI about these interactions, in addition to problems with the Hu'ich'o'n Power Station, sent KJI's precarious cardiovascular condition over the edge.  Alastair Gale wrote a fascinating essay about this report for Korea Realtime.  The policy and political circumstances under which Kim Jong Il passed away have affected a number of personnel and political decisions and activities that Pyongyang watcher beheld during 2012.
Chosun Ilbo undercut its own story, writing that "Kim Jong-il was famous for his nocturnal lifestyle and normally got up around noon."  This information is a bit dated.  For many years, KJI was a night owl.  In the early years of his succession drive he stayed up awaiting 'phone calls from his father (who also worked in the wee hours).  Later on, as he assumed more operational power and policy control, Kim Jong Il would start completing his office work late at night.  If he was hosting a close aide party or "secret" banquet he'd slip away early and head for his office where he'd read reports, documents and policy proposals until the early hours of morning.  He would retire to his quarters for a few hours' rest and then appear back at whatever office out of which he was operating during the late morning or early afternoon.  KJI's kept this nocturnal schedule until around 2007.  In 2007 he began to experience headaches and trouble with his eyesight while working.  This foreshadowed the subsequent health problems that culminated in a transient ischemic attack [TIA] followed by a major stroke during July and August 2008.
Even before his strokes in 2008, KJI had curtailed his late night office work.  At dinner party in the PRC Embassy in Pyongyang in January 2008, KJI smiled and said, "I am physically so much weaker than when I was younger.  Lately, I've been feeling even weaker.  In my office I sometimes feel dizzy and I get light-headed.  I can't drink and I am on a diet.  What is even worse is that I can't stay up late any more.  I am terribly bored every day."  Between rumors about KJI's problems in 2007-2008, and his own admissions to family members and foreign visitors, Chinese officials became somewhat concerned and began to compile observations and information about the late leader's health.  The Chinese got a better view on KJI's health on 18 June 2008 when Kim Jong Il met with Xi Jinping for over an hour.  Although Chinese observers said KJI kept his eyes closed and nodded as the Chinese spoke, he was "quick to respond" and "logical and coherent."  While the KJI-Xi meeting provided the PRC a first-hand assessment of KJI's physical and mental faculties, Xi's visit to Pyongyang was the first stop on a five-nation tour of Chinese allies and Xi's first foreign excursion after his appointment as China's Vice President in March 2008.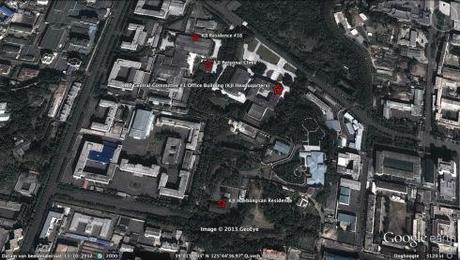 View of KJI's main base of operations showing his headquarters (the KWP CC #1 Office), his personal clinic and two of the residences where he alternated staying when he was in the city center of Pyongyang. KJI's residential compounds in Ryongsong District and Kangdong County, and those lcoated in the provinces, also had clinic facilities and on-call medical personnel (Photo: Google image)
In any event, after 2007, Kim Jong Il ceased working in his office at night.  From 2008 to 2011, according to several sources and accounts, Kim Jong Il generally woke up early in the morning.  When not staying in his suite at Ponghwa Clinic, he received a daily medical check up either at his personal clinic in the central party complex or from medical personnel (working under the Guard Command and Personal Secretariat) at whatever residence at which he was staying.  When not conducting guidance tours of economic sites, public facilities or military field inspections, KJI was usually in his office by 9 AM.  In the last months of his life, Kim Jong Il kept a very busy public schedule.  Stewing over a misleading report about infrastructure work one frigid Saturday morning, it is entirely likely KJI decided to board his private train and see for himself what was happening at Hu'ich'o'n Power Station.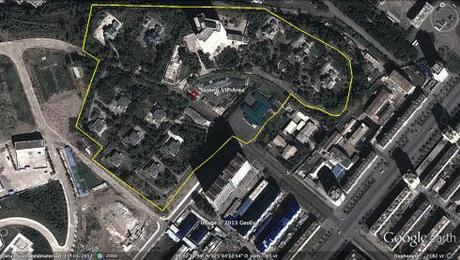 The Sojong VIP area in Pot'onggang District in central Pyongyang where KJI's official wife Kim Yong Suk and other DPRK elites (including Cabinet members reside). His daughter, Kim So'l-song has been said to have a home in this complex (Photo: Google image)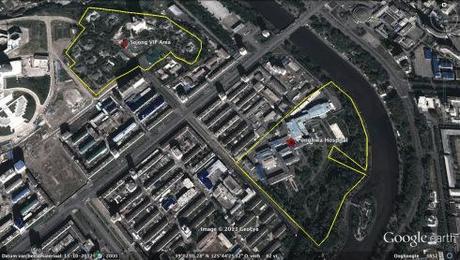 View of the Sojong VIP neighborhood and its proximity to Ponghwa Clinic (hospital) where KJI stayed or received medical treatment during 2008-2011 (Photo: Google image)
And yet, perhaps Kim Jong Il did not expire on the mystery train.  On 27 December 2012, Shukan Bunshun citing a Seoul-based correspondent using "reliable sources" and "secret documents" reports that Kim Jong Il died at the home of his daughter Kim So'l Song (Kim Sul-song).  According to the news item, So'l Song (a member of the Guard Command and a close aide to her father) had become the only member of the Kim family that KJI could trust, after a heated dispute with his son Kim Jong Un (Kim Cho'ng-u'n) over senior personnel appointments.
***In all due candor to readers of this site/blog, I actually believed DPRK state media's announcement that KJI died on the train.  I also had an alternate theory on his demise.  Two people who were in a position to know informed me in June 2011 that the Center's health had become precarious.  When KJI later visited the Russian Federation in August media images showed that he required assistance walking up the ramp that led to his railway carriage.  I thought the visit to Kwangbok Market may have been a deliberate last appearance, and that following that visit KJI, joined by his closest aides, went to an underground fortified residential complex on Kwangbok Street and was under acute medical care.  I'd also like to add that media discussion about it taking two days for DPRK officials to announce KJI's demise is  [insert language germane to NK Leadership Watch as directed by Martin Scorsese].  Two days was actually pretty efficient; if there had been a major problem in the transition the DPRK could have taken five days or  a week before announcing KJI's death.
n.b. Materials in this positing derive from my short book The Last Days of the Ryo'ngdoja (currently in its 2nd edit) and a feature in Japanese press from 2009
Filed under: Administration Department, Central Committee, critical infrastructure, DPRK External Relations, Finance and Accounting, Guard Command, Guidance Tours, III Army Corps, internal security, Kim Family, Kim Jong-il, Kim Jong-un, Kim Sol Song (Kim Sul Song), KJI death, KJI Personal Secretariat, KJI-Ko Yong Hui Family, KKH, Ko Yong Hui, Korean People's Army (KPA), Korean People's Internal Security Forces, Korean Workers' Party (KWP), Ministry of Railways, National Defense Commission (NDC), North Korean press, On the Spot Guidance, Organization and Guidance Department, Pyongyang Defense Command, Secretariat, Six Party Talks, social control, succession, transportation