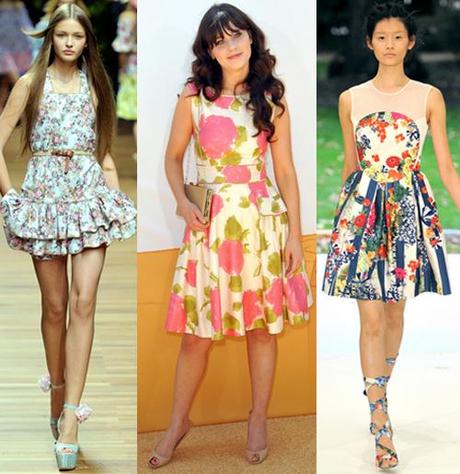 Women and floral prints can never be separated from each other. However even men are attracted to floral prints these days. For most of us floral prints represent beach wear or summer attires. However in modern fashion industry these prints are being used on all kinds of clothing and seasons. They are classic to look at and colorful at the same time. However one should know how to choose the right floral print for them. Big and bold prints suit only a few people, whereas warm colors, smaller prints suit almost everyone.
Here are some tips to find clothes with good floral prints:
Choose the right print-There are thousands of options when it comes to floral prints. They come in a mix of varied colors from the brightest to the lightest of them.    Dainty flowers, small prints, huge flowers are all a part of floral prints. However every kind of print is unique and suits a different body type. If you're shorter in height and on the bulkier side, choose smaller prints. Also keep your clothes short and sweet. Choose light colors and an A line cut for example.
Choose the right color-Bright colors look good on slim people, however hurting that may sound to you. Ultimately you want to look good and keeping that in mind, choose a color that would suit your skin tone and figure. Warm pastel colors suit everyone but more so for [people who are a bit heavy. They are delicate looking and sophisticated in appearance. Thin people can carry off anything they wish to, but otherwise you have to be thoughtful about your choices.
Match the right accessories-Choose accessories that contrast the prints. As it is a floral print dress has a busy look, so your accessories should be plain and simple. If you are wearing a deep neck top then wear long ear rings and keep your neck bare. If the neck is normal, then a simple string of white or black pearls can make you look gorgeous.
 Wear the right shoes-Invariably, wedges and flat heeled shoes suit floral prints more than anything else. If you are very tall then you can consider wearing flats that look delicate. Remember that floral prints are very delicate in looks and you have to match the look by wearing delicate accessories and shoes.
Conclusion
Use floral prints to accentuate your figure. These prints are not suited for making exceptionally short skirts or low neck tops. Floral prints tend to draw attention and you will be drawing attention to the wrong places if you do so. A smart a line frock with a little bit of deep neck can make you look gorgeous. You can even consider going backless with this kind of a frock. If you are planning to get something stitched using floral prints, do not add lace and crochet to it. Both are delicate materials and they do not go with each other. Lace looks best on plain background.