The  brilliant opportunity arose for me to meet up

long time blogger friend/facebook

Paulita and her husband Earl.

 

The short story is that they have sold up in the USA ,

moving to France and they were in England for

two weeks and not far from London.




Paulita's blog is


An Accidental blog.


Please do pop over and read all about her move and much more.


 

A quick hop on the train for both of us.

 

We just had to meet up!!

 

We met in London at Victoria Railway Station

inside Starbucks . Gave hugs and set off..

 


Quite amazing really as we only knew each other from our blogs.




We didn't stop chatting :-)

So wonderful that we hit it off , straight away , like we have met before.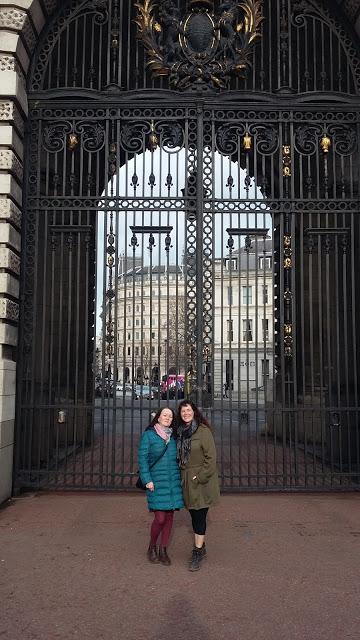 Here we both are at the

Admiralty  Arch gates on The Mall,

this is on our return to Victoria, having walked

miles , I think Paulita said 7 miles.

 
IF YOU CLICK ON THE SQUARE IN THE TOP
RIGHT HAND CORNER IT ENLARGES THE MAP AND
GIVES THE NAMES OF THE PLACES.
 

The code for the above map is :-

 RED is where we

started

and

ended

our day , PURPLE  is where we walked to

and visited and YELLOW is where we had a delicious lunch and shared Vino ♥

 

I will share some more photos on my next post.

 

Just want to say

 

SO HAPPY THAT WE MET UP

 

HUGE BIG THANK YOU TO PAULITA AND EARL

 

IT WAS AN AMAZING DAY.

 

♥♥♥♥♥