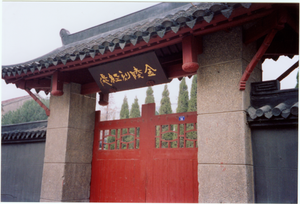 Image via Wikipedia
"It's a small word after all."
We have been residing in a small world already. Now that we have the most updated and innovative world that has been gradually connecting, it even makes the world a lot smaller. With regards to this, the United States Department of State saw such need. As a respond, they have implemented a call for critical language studies just this 2006.
An article posted by the site of University in Kentucky stated that its students in the person of Amber Davis and Ashley Meredith took the opportunity to learn Chinese and Arabic, respectively, "with two of the approximately 575 Critical Language Scholarships awarded by the State Department this summer."
Quoting Amber Davis with what she'd be up to, "This kind of opportunity is hard to pass up," she says, especially when she'd be living with a host family while learning Chinese language in Nanjing. As for Ashley Meredith, she loves to travel and explore the places that she saw. It's been her great joy to study to the places that she'd be going once she'd be in college.
According to the article, "Davis and Meredith will spend seven to 10 weeks in intensive language training in two of 13 critical need areas, which include Arabic, Persian, Azerbaijani, Bangla/Bengali, Hindi, Indonesian, Korean, Punjabi, Turkish, Urdu, Chinese, Japanese and Russian." This is a great number for these two to learn these unique foreign languages, right? But it sure enabled them to do so.
If these students have the confidence to learn Chinese language and other famous foreign languages at their young age, why can't you? Isn't language learning an opportunity to bridge the various gaps we have among other nations?
If you fully understand your great contribution to the world once you've made a decision to learn languages, I tell you; you will never regret it!