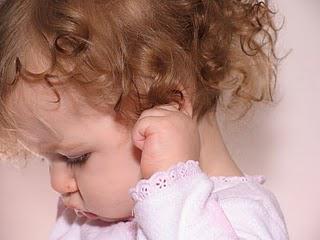 I try not to give my kids medicine for a fever unless they are truly uncomfortable. I am sure there have been times when their fevers were at 100 degrees and I didn't even know it. I do treat them if they are achy and have a headache-sometimes a low grade fever goes along with that. When do you give your kids acetaminophen/ibuprofen?
FROM ABC:

Treating fevers in children is a rite of passage for all parents, but the latest advice from experts may surprise you. It says that 98.6 is a number that's over-valued.


For the first time, the American Academy of Pediatrics has released guidelines for parents and health care professionals on how to deal with fevers in children. It says that if you give your child Advil or Tylenol for a one hundred degree temperature, then you have "fever phobia."
That's because mild fevers are *not* harmful and don't need to be treated aggressively. Fever is a common symptom in children, but a fever helps the body fight infection and should be treated to improve a child's level of comfort-- not to restore normal body temperature. This advice does not apply to children with certain chronic conditions or to children under three months of age-- who should be taken to the doctor if they have a fever. But for other youngsters-- the bottom line is don't treat a fever just because it's there.


-NewsAnchorMom Jen


Skin Dimensions SB products, exclusive to Soderstrom Skin Institute, are manufactured with Pharmaceutical-Grade ingredients. In addition to being "Feel Good Products," they contain unique and innovative ingredients in concentrations that can assist you in the achievement of your own personal skin care objectives. This product line contains higher percentages of Glycolic, Vitamin A, C, E, Co-Q10, green tea, than what you can purchase over the counter.