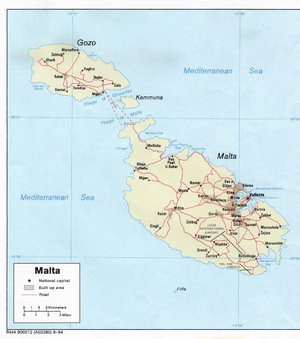 An enlargeable map of the Republic of Malta (Photo credit: Wikipedia)
Not convinced of going to a language school to learn English? Yeah, yeah, there are so many ways of acquiring the language already. Public or private schools are even teaching English already, in addition to the endless factors we can name of that involve the universal idiom.
Yet, if we only open our minds with the advantages of an English language for specific English language learning, you will not overlook this way of learning. Besides, schools are the best learning resource you can ever think of, right? There is no doubt about that.
In order for us to get persuaded with the fact that language schools are the best choices a learner can take, let us quote a few testimonials from students who actually had gone to language school learning in Malta. I've taken this from a certain language school where they recorded testimonials from students about how I impacted their lives. Let's take time to read such insights.
"My experience at [language school in Malta] was much more than I expected.  As soon as I arrived, I found a very warm welcome and great hospitality.  During my stay there I was given a lot of attention.  Whenever I had questions or I needed support I got answers and help immediately.  I felt myself like at home. This is very important if you are alone abroad. I would like to specially thank my teacher Marcelle who has helped me to prepare for the Cambridge (BEC) Business English Certificate examination. Marcelle was always well prepared.  Her lesson plans for the day were always well thought-out and her teaching skills were exceptional. She is a real professional and knows how to teach in an enjoyable way.  I was very happy studying with her. I can say that the language school staff is a really strong team of professionals and I wish the school a lot of success in teaching English to people from all over the world."
-   Veronika Gavrilova (Russia)
"Just a few words to tell you: I really enjoyed my stay at your English school in Malta.  Lessons were very well organized, teachers knew their stuff really well and used interesting and innovative teaching methods to help us learn English better.  I really enjoyed the relaxing ambience at school and its surroundings. I really look forward to going back next year."
-   Giulia Cresti (Italy)
"I was in Malta for the Intensive English Course.  It was such a perfect combination – I had General English lessons in the morning and then Conversational classes in the afternoon in a very small group.  The conversational classes were great as we were speaking and discussing all the time.  I really improved my speaking thanks to the Conversational classes."
-   Eszter Váczi (Hungary)
Pretty convincing, isn't it? So what are you waiting for? Inquire for our English language school in our site suitable for learning English language, especially in our school located in Malta.