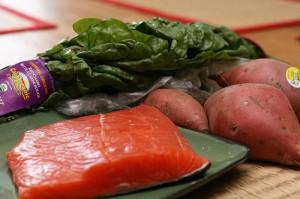 License: CC BY-NC-ND 2.0
You're pounding away at the keyboard in the middle of losing a feverish word war with time itself, and suddenly you hear a sound that you probably shouldn't recognize, but you do. Someone has opened the very last sleeve of Ritz crackers in the house.
"Excellent," you think. "Now I don't have to make dinner."
However, do this too often and eventually the guilt begins to tug at you, interrupting your writing frenzy with annoying thoughts like, "Bah, I should probably feed my family."
When pizza, hotdogs, and instant Ramen have worn out their welcome, here are three quick and easy ideas for real food. These are inexact, forgiving, "to-taste" recipes, because fewer measuring cups means less clean-up!
Beef & Vegetable Soup

Shopping List
Meat Case: 1 lb lean ground beef
Refrigerated Case: butter or margarine
Freezer Case: 1 bag pearl onions
Canned Veggies Aisle: diced potatoes, mixed vegetables, diced tomatoes
Grocery: dried lentils, 2 cartons beef broth (or bouillon for 6 cups broth), sliced bread
Seasoning & Spices: Italian seasoning, garlic salt

Instructions: In a large pot, brown the ground beef, draining off fat; dust with Italian seasoning and garlic salt. Drain canned veggies and add to beef, along with about half the bag of pearl onions, one or two handfuls of lentils, and six cups of beef broth. Simmer until the lentils are done to your liking, about 20 minutes, and serve with buttered bread.

* Bonus thrift tip: This soup can be modified to use up leftovers and adapt to your tastes.
* Bonus timesaver tip: Make extra and freeze in single-serve portions.
Easy Chicken Parmesan

Shopping List
Meat Case: boneless chicken breasts
Refrigerated Case: shredded mozzarella
Produce Aisle: bagged salad
Grocery: grated parmesan, bread crumbs, spaghetti, spaghetti sauce, salad dressing

Instructions: Bread boneless chicken breasts with a 50-50 mixture of grated parmesan and bread crumbs. Bake 30 minutes at 350 degrees F in a casserole dish. Add about a half cup per person of spaghetti sauce over the chicken and sprinkle with mozzarella cheese to taste. Bake an additional 15 minutes. Meanwhile, prepare spaghetti per package directions (ready in 10 minutes, plus boil time). Serve chicken over spaghetti with salad on the side.

* Bonus timesaver tip: Frozen breaded chicken fingers or even patties will work in a pinch. Follow package directions for heating.
Salmon with Couscous and Green Veggies

Shopping List
Fish Case: salmon filets, about 3-6 ounces per person
Freezer Case: steam-in-a-bag green beans or broccoli
Grocery: couscous (plus your favorite stir-ins)
Seasonings: olive oil, lemon juice, black pepper

Instructions: Cut fresh salmon filets across the grain into 2 inch wide pieces. Rub with olive oil and place skin-side down in a glass baking dish. Bake 25 minutes at 350 degrees F or until done. Meanwhile, prepare couscous according to package directions. (Ready in 5 minutes, plus boil time.) Stir-in ideas: roasted red pepper pieces, sliced olives, cubed cucumber, diced red onion, feta cheese, artichoke hearts, slivered almonds, pepperoni pieces, real bacon crumbles, fresh chopped spinach, a splash of lemon juice or balsamic vinegar. Prepare steamed vegetable in the microwave per instructions. Season fish with black pepper and lemon juice if desired and serve with couscous and your veggie choice.

* Thrifty alternative: Make salmon patties with 12 ounces canned or pouch salmon, 1/3 cup bread crumbs and one beaten egg. Mash ingredients together, form patties, and pan fry 3-5 minutes on each side. Serve with sweet potato fries and a green salad.
Help your fellow deadline-busting writers and share a comment with your favorite quick, easy meal ideas!