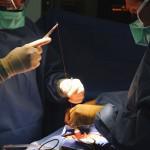 My son needed hernia surgery at six weeks old; too young to benefit from being prepared for the surgical experience. I was the one who needed the help as a new, first mother still insecure about my parenting skills.
His second surgery was an emergency surgery following a bike accident at seven. Once again, little time to prepare for what was about to happen. He needed surgery immediately and we got to help him cope with the emotions and consequences of his accident following emergency surgery.
Elective surgery, for whatever reason, allows for preparing a child for surgery in ways that hopefully will reduce his or her fears about having surgery and, if necessary, staying in the hospital.
About.com ran an excellent series about preparing a child for surgery. Jennifer Heisler, RN, wrote the content which appeared February 13, 2011. It can be accessed at surgery.about.com/od/pediatricsurgery/ss/PreparingPeds.htm
Nurse Heisler focuses on the need for parents to take their child through the process of what to expect from the time he or she arrives at the hospital or day surgery facility through discharge from the hospital . Parents need to know or find out such key information as to when parents can be with the child and when and where they must say good-bye, such as out side the operating room suite. This depth of detail will help a child manage fear and be more cooperative in his or her care.
Ms Heisler goes on to say that since children take their cues from their parents, it is important that a parent' s tone and body language needs to be calm and confident when speaking about the pending surgery. She cautions about the words a parent use to describe  anesthesia and to be reassuring but honest about any anticipated pain, which can be taken care of with medication.
Miss Heisler raises a concern that many children have about needing a surgery…that  somehow they did something wrong  or harmed themselves and that is why they need surgery.  She suggests speaking to a child a few days before surgery and giving the child the opportunity to think about his or her surgery and come up with questions.
If the hospital  permits a walk through prior to the day of the procedure, this will help a child feel more comfortable facing surgery.