This past Saturday, the children and I went to the beach.  North Carolina hasn't gotten the memo yet that it's past vernal equinox and so that means that it's time for fall.  I know intellectually that Halloween is a month away, but viscerally it doesn't feel like fall is actually something that will be happening ever.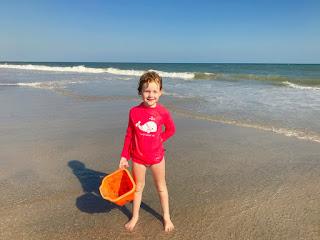 The beach is a hallowed tradition in my family, so I couldn't come to North Carolina and not go to the beach.  It's like coming here and not getting barbecue.  Theses are just Not Done.  I had planned on spending our first Saturday at the beach, but jet lag and a sick toddler decreed otherwise.  I was afraid late September would be too chilly, but the weather graciously extended us another chance.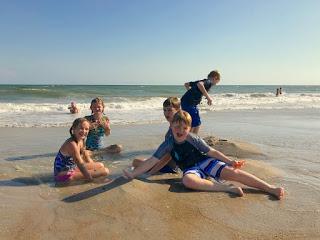 My sister and her four children live half an hour away from our favorite beach, Topsail Island, so they met us for a day of beach fun.  After all, if the beach is awesome, the beach with your favorite cousins is even better.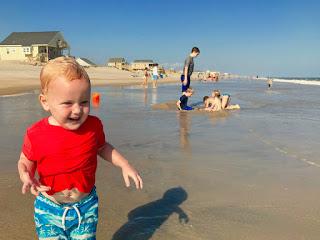 Everyone had a great time doing what you always do at the beach: swimming in the waves, digging big holes, catching mole crabs, and watching tiny clams try to dig their way into the sand.  The beach seems to never lose its attraction.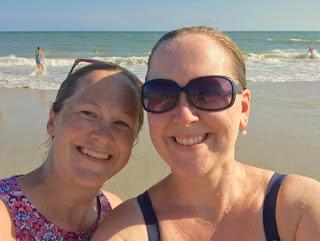 The weather and water were even so agreeable that I went swimming too.  William, who has never swum in the ocean before, thought that it was great fun bobbing up and down on the swells.  He wasn't that sure about the crashing waves part, but that's understandable when you're about three feet tall.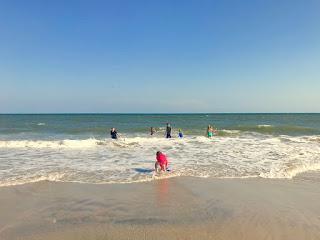 By the end of the day, we all realized that we should have reapplied our sunscreen (and also applied the first coat a little more carefully) and admired each other's fierce sunburns.  But that too is also the tradition of the beach.  If I get skin cancer, I'll name it after Topsail Island.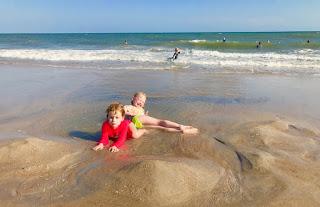 We were all sad to bid the beach goodbye after only one day of fun.  Thankfully next year we will be able to attend our family beach week after two years straight of missing it.  There really isn't a better family vacation than going to the beach (those of you who disagree with me are welcome to your completely wrong opinion).  I'm already counting down the months.