It is rumored that Arnold Palmer once said that watching golf on TV was about as much fun as watching paint dry.  I am sorry Mr. Palmer, but I have to disagree with that.  Being a junkie for golf on the course, on TV and online, I just can't get enough of it!
Which is why I was delighted to see someone find a way to make the game more enjoyable even when Mother Nature thinks it's time to hibernate our clubs. 
Let's face it, there's nothing worse than playing with cold balls.  And there's nothing fun about freezing one's butts off while trying to keep our precious Pro V1s warm enough to perform the way a $5 golf ball should.
But the problem is that all the major brands are manufactured for an optimum temperature of ~ 80

degrees F.  When those balls getcold, they're less resilient anddon't compress as they should off the club face. 
Frank Thomas, former USGA director shared in his book, "Dear Frank...: Answers to 100 of Your Golf Equipment Questions that for every 10 degree drop in temperature, golfers can lose up to 2.5 yards of distance.   That yardage really adds up when the mercury takes a dip.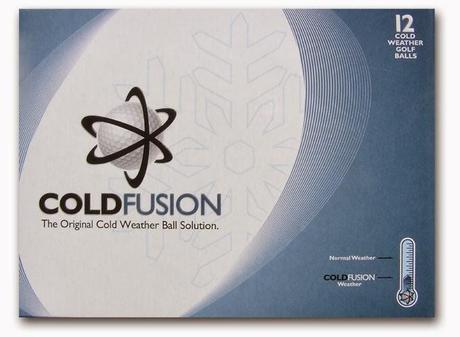 Enter
ColdFusion Golf
.  They have just launched the first cold weather golf ball that is designed to perform better the frostier it gets.
Apparently the ColdFusion Golf ball uses a custom core that retains its elasticity even when frozen.  The softer core also makes the ball more responsive off the club face and gives golfers better feel for every club in their bag, even the putter.
Teaching professional Randy Davis of Fairways and Greens Golf School in Cary, NC tested them out and gives them high praise.
"As a retired PGA Touring Pro and year round golfer, I understand why my normal ball doesn't perform its best in colder weather. And when it loses compression and feel, it makes my rounds less enjoyable," shared Davis. 
"
I'm very particular about how my ball spins and feels off my wedges and putter and the ColdFusion is especially great with these shots. That's why I recommend the ColdFusion cold weather golf ball to my students who play in cooler climates."
So if you're feeling frost bitten by lost yardages because your balls feel more like rocks and rockets when the chill hits the fairways, why not give ColdFusion Golf a try?  In fact, why not play alternate shot with your standard ball and a ColdFusion Golf ball and see if you notice a difference.  Then tell me what you think.
But remember what they recommend… For optimal performance, chill'em before you drill'em down the fairway!

Do you play golf in cold weather...even with a bit of frost on the fairway? Voice your opinion on Twitter @
Golf4Beginners
and on our
Facebook page
.