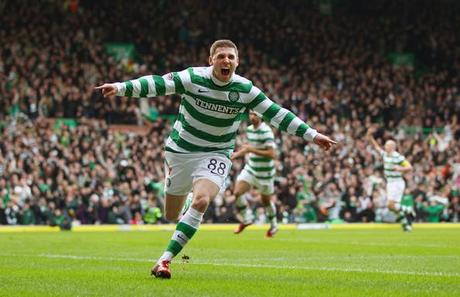 Our talisman
We need to tell them quite rightly, where to go with their £6m bid for our top striker.
Southampton's efforts to unsettle Gary Hooper have so far been rebuffed by both club & striker, with the latter committing at least, his short-term future to the club and possibly beyond. Not only is the Englishman this season's top scorer, his partnership with Anthony Stokes seems to have matured into a solid mutual understanding and double act which has taken the League by storm with twenty-one goals so far. He is also ahead in their own personal goals head-to-head, which is great for motivation and can only add weight to Celtic's longing for the Championship.
I do believe in the coming years, our number eighty-eight will move back to England, but at a higher level than where he came from at League One Scunthorpe United. Southampton, come May, could well be offering Hooperman Premier League football in England, albeit with a struggling side, but that would probably come under an aspiration for any footballer born down South and Hooper will be no different.  In his primitive few years in professional football, the Celtic star has accumulated over one hundred goals at only twenty-three and has shown not only a knack for being in the right place at the right time, but an ease and sublimity to his finishing.
Not only this, but how demoralising and disheartening would it be for the team, manager and fans to let their star man go, midway through the season – especially when their only other striking target, Baba Diawara, appears to have agreed terms with Spanish cracks, Sevilla. Trying to find another striker, or trying to incorporate the unconvincing Bangura into a partnership with Stokes for the title run in would be akin to shooting yourself in the foot – and the pain would be far worse if this decision meant finishing runners-up again.
Advertisement