By Elizabeth Prata
Katharina von Bora was a woman you should know, if you don't already. She was born in 1499 in Lippendorf, Saxony, Germany. When she was five years old her father sent her to a monastery for education, and then to another one when she was 9. Ten years later, the growing Reformation movement has slipped into even the thick walls of the quiet Cistercian monastery and Katy, by now a nun, conspired to escape it with several other nuns. She had contacted Luther and Luther sent his friend Leonard Koppe, to retrieve the nuns. They escaped in a fish wagon. They arrived in Wittenberg, where you know who lived.
A local student wrote to a friend: "A wagon load of vestal virgins has just come to town, all more eager for marriage than for life. God grant them husbands lest worse befall."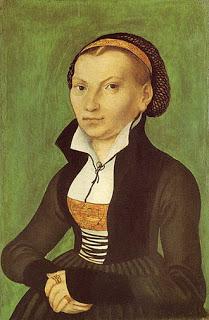 Source Wikipedia cc
Wittenberg's most famous resident, Martin Luther, attempted to find them homes. The escapee nuns' parents refused them re-admittance to their homes of origin, because their escape was against canon law, so Martin Luther found them lodging elsewhere. All except for Katharina.
Katie was courted by several different men, but she was adamant she wanted to marry Martin Luther.
And soon after, Luther wrote, "Suddenly, and while I was occupied with far different thoughts, the Lord has plunged me into marriage." And thus, the Lord granted Katie Von Bora a husband! And no worse befell.
Katharina von Bora was a staunch supporter of her husband and a good keeper of her home. As we already have seen, she was gutsy and proactive. She was strong, and determined. Given Martin Luther's well known bouts of melancholy and depression, they were a good match.
In fact, during one of his longer lasting, deeper bouts, Katy took action once again. Spurgeon has the story.
Martin Luther was a very cheerful man, as a rule; but he had terrible fits of depression. He was at one time so depressed that his friends recommended him to go away for a change of air, to see if he could get relief. 
He went away; but he came home as miserable as ever; and when he went into the sitting-room, his wise wife Kate, Catherine von Bora, was sitting there, dressed in black, and her children round about her, all in black. 
"Oh, oh!" said Luther, "who is dead?" 
"Why," said she, "doctor, have not you heard that God is dead? My husband, Martin Luther, would never be in such a state of mind if he had a living God to trust to." 
Then he burst into a hearty laugh, and said, "Kate, thou art a wise woman. I have been acting as if God were dead, and I will do so no more. Go and take off thy black." 
~The Complete Works of C. H. Spurgeon, Volume 38 By Charles Spurgeon
A wife of noble character is her husband's crown
, (Proverbs 12:4a)
Learn more about Katherine von Bora, a woman who defined family life in the Protestant era, supported her husband who happened to be one of the most important Reformers, raised 6 of their own children plus four orphans, and is a woman we still speak of 500 years later.
Katharina von Bora
The Runaway Nun
500th Anniversary of Katharina von Bora