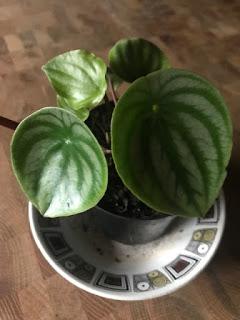 I have written recently about my plant obsession for I had a brief buying spree collecting a few choice plants. One of the plants high on that list was the peperomias. Watermelon peperomia. It has such luscious leaves with beautiful markings which are similar to the skin of a watermelon.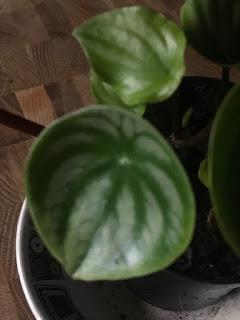 I sighed, laughed and kicked myself for my own stupidity at not buying from a recognised/credible seller and sowed the seeds anyway. Why not I thought.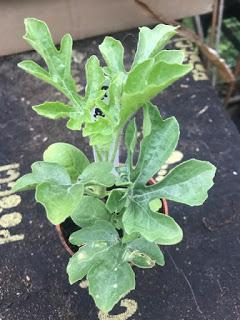 These plants are melon seedlings of some sort. If they actually produce melons I will carve wise words into them - buyer beware.
Here would have endeth the lesson, but there is a postscript.
When my peperomia plants arrived earlier in the year, a leaf or two had come off in transit. I had been looking up how to propagate plants and leaf cuttings were often mentioned as a good method. I have had very poor success generally when trying leaf cuttings, but I had some healthy looking broken off leaves and I thought it was worth a go. I popped them into a pot and kept them warm on the kitchen window sill. I check the pot every now and again and not a lot was happening as far as I could see. But....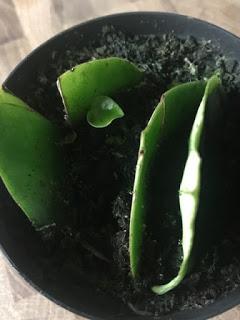 look look look look look! Signs of a little baby peperomia. I have always regarded the first signs of seeds germinating as proof of magic existing; if a cutting roots in a pot or in water that is also the sign of the super natural, but a leaf cutting actually working is just the most exciting moment of all.