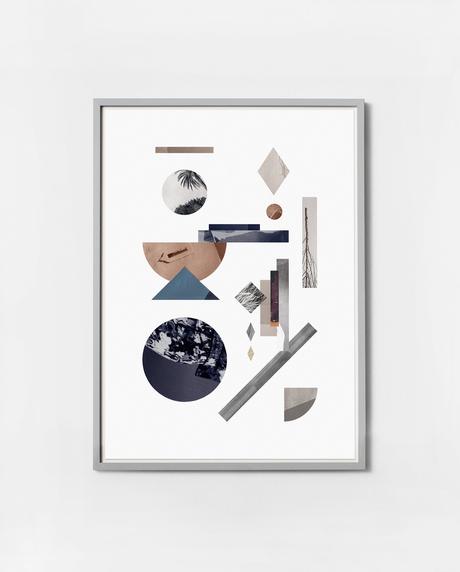 Kristina Krogh's Fragments No. 1.  
KRISTINA KROGH
Location: Copenhagen, Denmark
Practicing since: 2012
Age: 30
Education: Danish School of Media and Journalism, Graphic Design, 2011
It's hard to find something more perfectly of-the-moment (at least in Scandinavian design) than the graphic work of Kristina Krogh, which already has a comfortable home in the furniture designs of the Ferm Living collection. In her prints, rigid structures grapple for footing in a decadent dreamscape, sometimes anchored to borders and other times floating freely in untethered white space. "My artwork is built around a certain dynamic and graphic rhythm," Krogh explains. "Geometrics, aesthetic lines, patterns, and distinctly different textures are some of the things I love."
The result is an enticing tension due in large part to Krogh's depiction of physical materials in her images. Hard materials like marble, granite and sandstone, and soft ones such as feathers and fabric. She also plays with light and shadows, giving her 2-D art further dimension and tangibility—as if her graphic design elements were plucked directly from the product-design toolbox. 
Like the latest in furniture, her palette consists of soft grey, peach, rose, strong emerald, and midnight blue. These hues are held together with lines of shiny foil in copper and gold like metal frames, adding just a bit of glam.
Her new line of home objects—a desk organizer and wall mirror—takes the opposite tack, however, drawing its 3-D expression from the pared-down lines of her graphic work. Her simple lines evoke Art Deco, Frank Lloyd Wright, the Memphis Group, Aztec art, and the popular triangle patterns of today, yet are all her own. And this is how Kristina Krogh becomes not just on-trend, but timelessness.