There's a few people showing these two images on Twitter, I think a before and after photograph of Birmingham. Lots of people horrified at the destruction of fine old buildings by brutalism.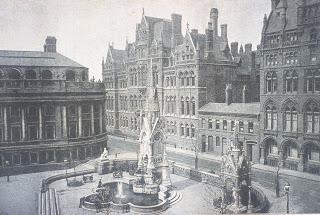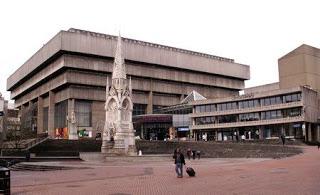 I'm trying to remember back to my childhood, but I seem to recall that in general, people were rather in favour of the new buildings, and the idea that we should keep a load of old stuff around is something that came later. And I think it was about the mid to late 80s, probably when everyone realised how awful a few council tower blocks were that it all went the other way.
The problem is that I remember those old buildings and however charming they looked on the outside, they just weren't very good. The town library had poor lighting, was cold and a bit mouldy. The modern library had large windows, and was comfortable.
I also think that we've done a lot now to keep old buildings and make them more pleasant. So, St Pancras station is rather nice. Of course, that also cost something like £800m to do, far more than what was spent on expanding and refurbishing the modern station at Reading (which also works better as a station), but as the traveler doesn't see the cost, no-one notices. This changes the way people think about buildings. Old buildings are fine, if you aren't directly paying the extra cost. It's also why the private sector tends to err towards the modern because if you run an office in a listed building, you're going to pay more than a shiny Regus office.
I think it's a shame this happened. My memories of the 70s and 80s were of optimism for the modern. Moving forward into a better age. And I don't think it's a party thing. Both Labour and Mrs Thatcher were keen on building new, shiny infrastructure.