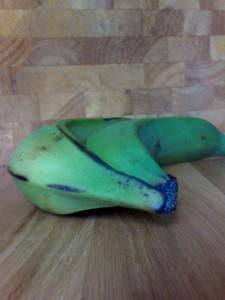 Plantains (unripe)
Plantain Risotto
As I visited my parents back in 2000, not only did I meet with three great individuals in my life and their personalities. For the first time since 1975 I had the opportunity to be re-united with those who provided the fundament for my culinary life – Father, Mother and Aunt. Only a single fourth one was missing – my deceased Grandmother. My family was the very first fountain of knowledge and taste for good food. That would normally be sufficient reason for me to sit back, enjoy and avoid altogether cooking for these mouths of gifted masters. It was not a daring-happy courage what moved me to cook for these loving humans, but my excitement for cooking itself and a way of showing my gratitude to them for their teachings.
It was also during this stay that I clearly noticed how small all kitchens of the world are, whenever compared to one another, independently of how great the might be on their own.
I grew up with a vast amount of dishes at the table on a daily basis, but as I announced my plan to cook a pasta, all eyes looked my way amazed. Indeed, Cubans and Puerto Ricans alike know the vast array of pasta dishes there is. Sooner or later they all cook some spaghetti, lasagna or many other Italian specialties, but these are not part of the daily culinary experience on these islands.
The beauty of travelling and the encounter with other cultures is best experienced when we discover strange cuisines and grow fond of them. When on top of that an individual is passionate about cooking, inspiration and combinations are unavoidable.
And how does one create a risotto a la cubana? I chose ingredients which are traditionally part of the everyday Cuban life: oranges, garlic, plantains and coffee.
three green bananas (plantains) – you may just the same choose ripe ones, if so desired
250 g arborio rice
1,5 liters of lamb stock
two onions
two or three garlic cloves
zest of an orange
some sage leaves
olive oil
two tbsp. espresso
200 ml white wine
40 g parmesan cheese
Note: When plantains are green, they taste fairly neutral, but savoury. Once they turn light green or slightly yellow, they turn a bit sweet. If clearly yellow or almost orange, their taste will be quite sweet and their consistence is very soft. In my experience, they need to be cooked in any case. 
Firstly, the plantains are to be peeled and pre-cooked in slightly salted water with one or two tablespoons of olive oil for 20 minutes by medium heat. The olive oil helps to a void a dry consistency. If these are ripe, pre-cooking is not necessary. While warm, cut the plantains in slices.
Prepare the stock and an espresso. In a heated large pot put two or three tablespoons of olive oil. Add the chopped onions and wait until they become shiny before adding the bananas, finally also the rice. As soon as the rice has become shiny as well, add the white wine, later on the sage, garlic, orange zest and coffee, then reduce the fire a bit. Once the wine has been absorbed, start adding the stock one ladle at the time. Keep always stirring and once the fluid has been absorbed, keep adding stock, until about half of it has been used. At this point put the parmesan cheese in and continue adding the stock in the same manner as before, until the rice is cooked and creamy. Let the risotto rest some 10 to 15 minutes and serve with some olive oil drops. If desired, add some extra parmesan and chopped basil.
*
You ought to try my Beet Root Risotto and Lamb Risotto as well.