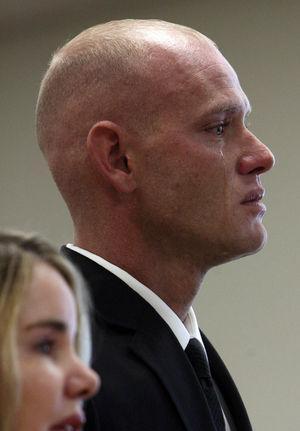 FILE - This Dec. 20, 2012 file photo shows Eric Charlton, right, who pled guilty to accidentally fatally shooting his brother in the head during a camping trip, during his sentencing hearing in Nephi, Utah. After the sentencing, Charlton asked for a unique opportunity: to tell his story to kids and young adults, in an effort to deter them from making similar mistakes by mixing alcohol and guns. (AP Photo/The Salt Lake Tribune, Steve Griffin, Pool, File)
The last time we left the poster-boy of safe gun handling
he had been sentenced to jail. Of, course all the charges were reduced to misdemeanors first.
Now,
The Daily Journal
provides a fascinating follow-up.
After Cameron's death, Charlton had an added stress when criminal charges were filed against him. Prosecutors originally charged the 28-year-old Weber County man with second-degree felony manslaughter. But after a preliminary hearing, 4th District Judge James Brady reduced the count to a class A misdemeanor.
In October, Charlton pleaded guilty to a class A misdemeanor count of negligent homicide and a class B misdemeanor count of carrying a weapon while under the influence of alcohol, and in January, Brady ordered Charlton to serve six months in jail.
But Charlton asked for a unique opportunity: to tell his story to kids and young adults, in an effort to deter them from making similar mistakes by mixing alcohol and guns. Brady granted the request, in part, ordering Charlton to serve 90 days in the Juab County jail and to make 90 presentations by July 2.
But during a review hearing on deadline day, defense attorney Susanne Gustin said Charlton had fallen short, having completed only 45 presentations. Gustin asked for more time, adding that Charlton's therapists are concerned with the presentations, because he is re-living the shooting every time he tells the story, and is not progressing as he should in therapy.
Brady extended the deadline to complete the other 45 presentations to the end of the year, but he also gave Charlton the option of returning to jail for an additional 45 days. Charlton said he is committed to telling his story because jail would be too easy.
Yeah, spending time in jail is too easy.  That's a good one. Or, maybe it's true.
What do you think?  Please leave a comment.