Gifting flowers is traditionally one of the best practices followed by humanity for many centuries. This tradition has a long history, even dating back to BC times. Not just on Valentines' Day or Mothers' Day, but we do gift flowers affectionately on any given occasions as a universally accepted gifting standard.
Going a step ahead, now there are many flower gifting services too, which makes it easier for the users to send a handful of beautiful and scented flowers to a loving person at a different location or country. When it comes to gifting flowers; however, you need to be a bit careful and knowledgeable about the symbolization of various types of gifting flowers and needs to do it properly for the desired impact. For those who are new to the idea of gifting flowers to your parents, lover or anyone else at random, here we will discuss a few insights to be gained on this.
Common Gifting Flowers
Even though roses are the most accepted and admired variety in the bunch, there are many other classic gifting flowers too out there as;
White Zantedeschia
Chrysanthemums
Solidago
Calla Lily
Alstroemeria
White Carnations
Wheat
Carnations
White Lilies
Gerbera Daisies
Lime green Euphorbia Robbiae.
Monte Casino
Marigolds
In fact, most of the times, there are given in combination to share a definite message or emotion to match to the mood of the situation ranging from a casual 'hi' to expression of true love from within. Ideal gifting flowers to UK services will help you do it efficiently.
Things to Know When Gifting Flowers
On someone's birthday, you may find the below five a perfect choice to see the special one with that extraordinary smile.
Roses
No doubt that rose depicts a unique appeal and personalised message for all occasions. For an extraordinary birth wishes, there is nothing but a bouquet of yellow roses or assorted multi-colour roses will be ideal. When the gifting is done to parents, you think of majority white and if to your loving spouse, no doubt about red in abundance.
Gifts for Moms
Roses were considered to be sacred to the Greek goddess of Isis, who was considered to be an ideal month. Roses also have symbolization about Virgin Mary. All these make a rose bouquet an ideal gift for parents, especially moms. Pink roses signify grace and appreciation, and yellow roses symbolise joy and friendship. So, both these colours are perfect when you think of gifting rose bouquets to moms.
Anniversary Gifting
Red roses are deemed to be ideal for gifting on the anniversary. As you know well by now, red roses symbolise pure love. White is also fair to be considered for special occasions, which represents purity, humility, and innocence. What white rose is usually referred to as bridal rose is rightly associated with pure love. It is also ideal to think of gifting yellow, pink, orange, purple roses too for similar occasions.
Let it be any of those loving flowers gifting in a beautifully set bouquet; it ideally symbolises a new beginning or feeling or care and emotion-filled feelings. An ideal flower gifting service you hire will make all such need fulfilled.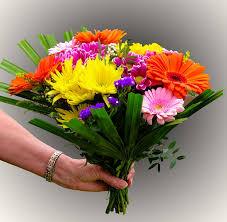 Author Biography
Karen is a Flower Decoration Expert. She also supports gifting flowers to UK services. She is very responsible towards her job. She loves to share her knowledge and experience with her friends and colleagues
Comments
comments