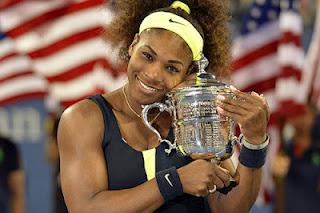 I'm always so sad when the latest Slam is over. What? I have to pay attention to my family again? I can't sit on the couch all day watching tennis? I can't walk my dog AND constantly check my Twitter for tennis updates because something might happen in the 12 minutes I'm away from the TV?
Anyway, the U.S. Open 2012, the last Slam of the year, was more fun, more exciting, and more instructive (in my opinion) than all the other 2012 Slams AND the London Olympics put together. Here's what you and I can learn from this year's U.S. Open winners:


Women's Singles Champ Serena Williams - Never give up.


How many times have people written off Serena Williams? She cut her foot and couldn't play half of last year. She lost in the first round of this year's French Open. She wastes her time selling her own line of purses, etc. on the Home Shopping Network. But - Wow! Does Serena Williams ever, ever give up? She basically rolled through her U.S. Open matches (remember how she trounced Andrea Hlavackova 6-0, 6-0?) and, played one of the all-time great women's finals by battling it out with and finally beating No. 1 ranked Victoria Azarenka in three sets. What a year Serena has had - Wimbledon (singles and doubles), the Olympics (singles and doubles) and now the U.S. Open. No matter how weird or bad things get for her, Serena makes it clear - you should never give up.
Men's Singles Champ Andy Murray - Be willing to make changes.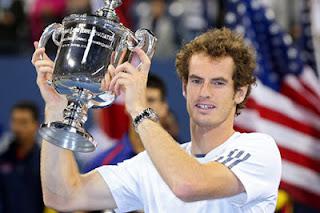 This was Murray's fifth Grand Slam final. That's right. It took him five times to win a Slam. He was good enough to get to a final four times before but it took this fifth time for him to pull it off. And what made the difference this fifth time? He changed his game. Under the coaching of Ivan Lendl, Murray has gone from being an excellent counter-puncher who just keeps pushing the ball back over the net, to someone who takes the offensive and makes things happen. So if Andy Murray can make changes to his game, surely you and I can.


Women's Doubles Champs Sara Errani & Roberta Vinci - Be nice.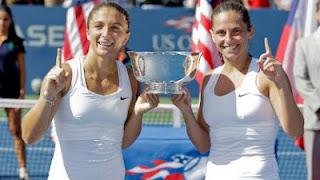 These two Italians are part of the up and coming future of women's tennis. They won doubles at the French Open and now here they are with their second Slam title. And with their U.S. Open win, they take over the No. 1 and 2 WTA ranking spots in women's doubles. But the most interesting match these two played during the U.S. Open was when they faced each other during the singles quarterfinals, with Errani pulling off the win. While the two had a very cute victory dance after their doubles win, Errani was a little more subdued when she beat her doubles partner in singles, showing - no reason to be the gloaty winner, especially when the person on the other side of the net is your friend and doubles partner.
Men's Doubles Champs Mike & Bob Bryan - Communicate.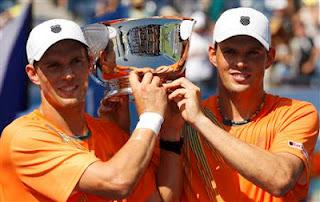 What can you NOT learn about doubles from the Bryan Brothers? Watching them play is like watching some kind of Doubles Domination DVD. "Just do what these guys do and win!" But what I get from these two is the constant, nonstop communication that goes on during their matches. I mean - come on! They're twins! How much talking and whispering and strategizing and hand tapping and chest bumping do they really need to do? Every point? Every serve?? But they do it and they do it a lot. The Bryan Brothers prove that one of the most important things you can do in a doubles match, if not THE most important thing, is constantly communicate with your partner.


Mixed Doubles Champs Ekaterina Makarova & Bruno Soares - In tennis you never know what can happen.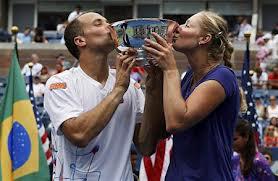 Russia's Ekaterina Makarova and Brazil's Bruno Soares don't usually play doubles together. But when a last minute ranking issue prevented Bruno from being able to register with his regular partner, he sent his coach out to the U.S. Open practice courts to track down Ekaterina. She agreed to be his partner and so he signed up with her - with only 30 seconds to spare until the sign-in deadline. Whew! But who would ever have guessed that they would end up winning the whole thing? They knocked out Bob Bryan and Lisa Raymond in the first round and Mike Bryan and Kim Clijsters in the second round. The lesson here? You never know what might happen in your tennis match. Hang out on the practice courts enough and you could end up winning mixed doubles at the U.S. Open!


© Kim Selzman 2012 All Rights Reserved