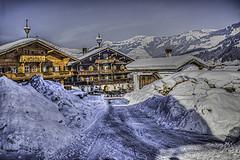 photo : Valerii Tkachenko
Austrian Alpine Holidays Blog is nearing its first birthday, so it seems timely to think about what might be of interest in the year ahead. Your views about what should be covered would be very much appreciated.
What would you like to know about Austria?
Austrian Culture
Many of the pieces prepared in the past year have had a strong hint of history – OK, a lot of history!
Austrians are very proud of their heritage and many of the attractions of the country – especially in the towns and cities – tell the story of their forefather's lives. This is especially the case where the Habsburg Dynasty is concerned.
The Medieval towns, Gothic, Baroque and Renaissance buildings show that the Austrian people have a love of fine things. Knowing about their historical roots, helps get to know them as people too.
Do you want more of this in the year ahead?
Austrian Cuisine
Food and drink – or gastronomy as it's called in Austria – is a very important part of many people's holidays. From the everyday foods – like the Kaiserwürst  to be found in most town and city centres being sold from mobile stands and the delicacies of Sachertorte only available in select outlets – to the wines and beers from Austrian breweries, we've had a brief look at what you might expect to find in the shops, restaurants and mountain hutte.
Do you want more of this in the year ahead?
Summer Sports
Hiking and biking – especially in the mountain ranges – are very popular during the summer months and there have been  articles relating to these sports. With thousands of kilometres of cycle paths (or radweg as they are known in Austria) from provinces in the north and west to those in the furthest south and east, there's still plenty more to be described. The same goes for hiking trails through the mountains.
We've also taken a look at some of the summer sports you might not have thought take place in this mountainous, landlocked country – like diving, golf and white-water rafting. Other sports like fishing and swimming are perhaps to be expected, but you may have been surprised to find that Austria has a champion sea surfing team.There are other summer sports to be enjoyed in Austria not yet described.
Do you want to hear more of these in the year ahead?
Winter sports
Snow sports are what most people think of when they plan a holiday in Austria. With so many well-known ski resorts in the Tirol province, we've tended to look at some of the world-class, but less well known ski resorts. Murau- Kreischberg is one such place, where FIS World Cup events are held and there'll be a double whammy in 2015, when both the Freestyle Ski and Snowboard Championships will be held at the resort.
Turracherhöhe is another resort with much to offer, especially for families and those who are not necessarily keen to risk life and limb on the pistes. Whilst ski and 'board enthusiasts take to their 'planks of ply', others in their group can enjoy a more leisurely time taking in the sights.
Do you want to hear more about these in the year ahead?
People and Places
Not everyone wants to spend all their holiday hiking up mountains; sliding down slopes; filling their faces with food; or gazing at Baroque beauties. There are those who enjoy a little more frivolous entertainment, so we've taken a look at the lighter side of life with the Austrian people. And we've found out a little about some of the interesting places there are to visit, like the Federal stud at Piber and the wonderful gardens at Salzburg for example.
Do you want to hear more about these in the year ahead?
Staying at Chalet Lowonahill
It's often been possible to persuade visitors to Chalet Lowonahill to tell us about their visit to the chalet and the area. In the interest of being transparent about what being a guest at the chalet is like, I've tended to select those testimonials that have something to say from which I must learn. It would be easy to publish all the glowing reports, but life doesn't always run according to plan – things go wrong, even in Austria.
Do you want to hear more about these in the year ahead?
Your thoughts, please.
Austria is such a rich and varied place to go on holiday at any time of the year. There's so much to see and do, but what's important for the year ahead is that what is written on the Austrian Alpine Holiday Blog is what you want to know about; what will help you make the most of your holidays.
What do you want to hear more about in the year ahead?
Chalet Lowonahill is an all-season, rustic-style holiday home in Styria. It's the ideal place for you to discover the delights of the 9 provinces of Austria. To find out more, simply click here.