What would make people stay a Diet Doctor member long-term? We asked our members and got more than 1,800 replies. Here are the results: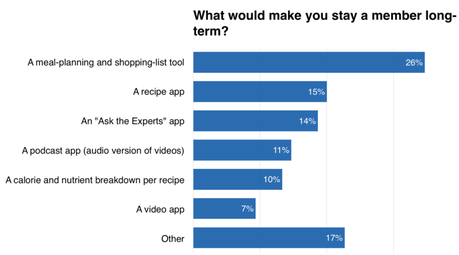 A meal-planning and shopping-list tool
Most members want a tool that makes meal planning and shopping easier. We have already decided to make such a tool and here is how it could work:
Do you want to plan for a week or just for a day? You decide. Add meals to your plan by clicking the recipes you want. When you are done planning, the tool automatically creates a shopping list for you.
It will take time to create this tool but we'll start the planning for it during this month. What do you want from the meal-planning and shopping-list tool? Let us know.
A recipe app
Many members would like a recipe app too. We have some ideas but what would you like from such an app?
An "Ask the Experts" app
An "Ask the Experts" app is a popular idea amongst our members. We understand why - it is not simple enough to ask questions and find answers at the moment.
We have decided to massively improve "Ask the Experts" and we will start improving the functionality this coming week. What improvements would you like to see?
A podcast app (audio versions of videos)
Would it be awesome to have audio versions of all member videos easily available on your phone? Many members think so and so do we.
We have started looking into how we can make this happen for you guys and hopefully we will have something ready a month or two from now.
Try the membership
Diet Doctor is 100% funded by the people, via our optional membership. Try it for all kinds of bonus material:
Start your free trial month
Earlier surveys
What's The Worst Thing About Diet Doctor?How Would You Like to Contribute?What One Word Best Describes DietDoctor.com?What's Your Main Issue on Low Carb?What Four Low-Carb Experts Should We Interview Next?How Can We Make The Membership Insanely Great?What Do You Want Us to Write About Next?What Do You Want Us to Do Next?Would You Recommend the Diet Doctor Membership to a Friend?What's The Key Benefit of Being a Diet Doctor Member?For How Long Have You Eaten Low CarbFoods People Miss On Low CarbThe Biggest Challenges On Low CarbWould You Recommend Eating Low Carb?How Often Do Low Carbers Cook?How Often Do Low Carbers Eat Non-Low-Carb Foods?The Biggest Fears on Low Carb - and the SolutionsDoes Low Carb Work?How Much Weight Do People Lose on Low Carb?