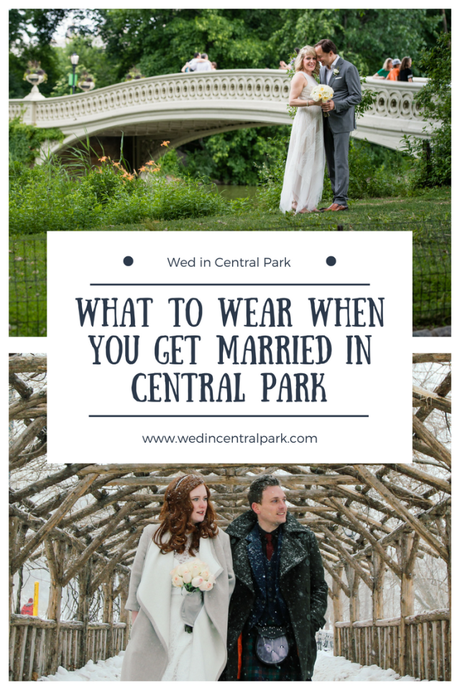 So, you've decided that you want to say the all-important vows to your significant other in this stunning beautiful place in the center of one of the world's greatest cities.  Well done, that's one decision made!  Now, what to wear for this auspicious occasion…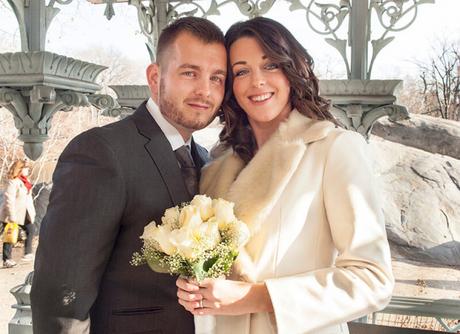 Consider the time of year
If you are getting married outdoors in New York, then an important factor in deciding what to wear will be the weather.  New York can get very very cold and very very hot and humid, and in between it can be really very lovely.  So, check the weather forecast and plan accordingly.  We have had brides wear thermals under their wedding dresses in the winter, or choose a lovely faux fur wrap or jacket for in between photographs.  In warmer months we've had grooms choose linen suits or gone jacket-less for their ceremony.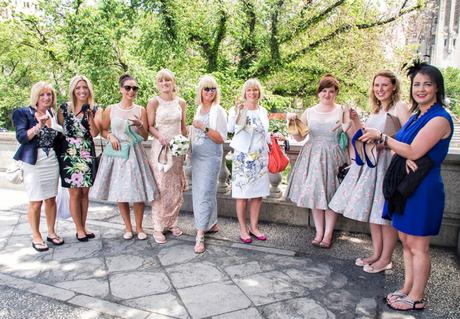 Think about how much walking you will do
When you have chosen which location in Central Park you want to have your ceremony, and where you want photos to be taken, then you'll know how much walking you will be doing.  This may well influence what shoes you choose to wear.  Many brides have a pair for photos and a spare pair of comfy ones for doing the walking in.  If you choose a long gown, then think about how much you will be lifting it to get anywhere, and of walking through a busy public park and all the dirt it might pick up.  It is unlikely to show on photos, but a gown that drags on New York streets will not be spotless by the end of the day.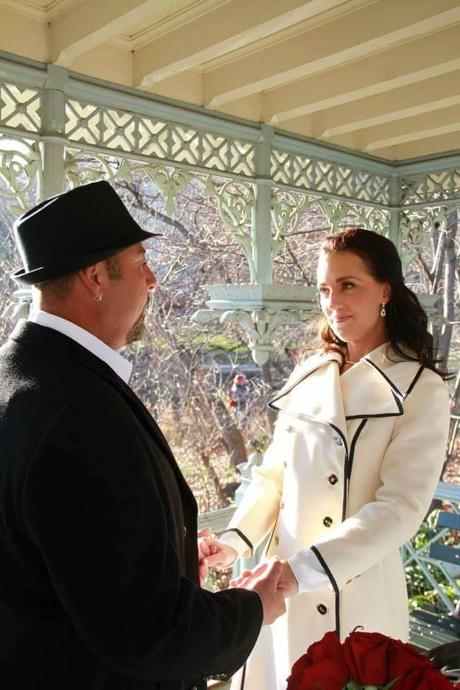 What's your style?
There will be reasons why you love Central Park; perhaps it's the rustic natural feel of the place, despite it's location, or maybe you love the wrought iron structures and stone buildings.  Of course there's an element to the choice of what to wear that is your personal taste, just as it would be if you were marrying in a more traditional location.  Just because you are marrying outdoors doesn't mean that you can't have a striking gown with a huge skirt – of course you can.  But you can also go for a classic knee-length dress with flats, or a trouser suit, or the ever-popular and practical tea dress.  Anything goes in Central Park!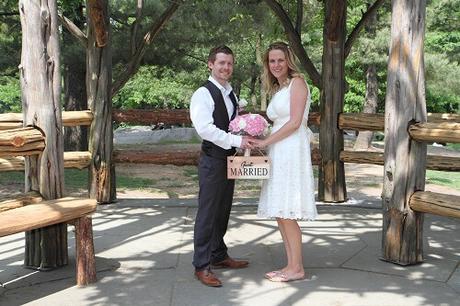 How much do you value comfort over appearance?
I think this is quite an important one.  Some of our brides look truly amazing, and I am a little bit in awe of them.  I wore a plain linen white dress because I wanted to be comfortable in the July humidity.  That's who I am.  We've had brides get married in jeans, because that's who they are.  I think that some couples have chosen to get married far from home because they want to avoid some of the traditions that often come with weddings and it's wonderful that they have the option.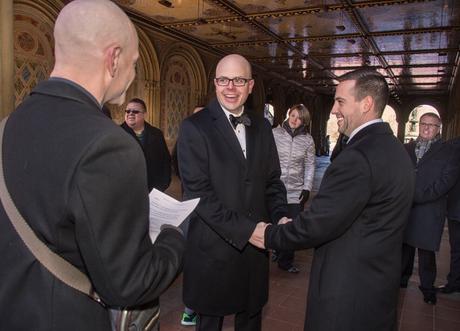 Think about the photos you will be taking
At most traditional weddings, there are lots of group photos taken, which capture the whole outfit, and then some close-ups, which will only include the top half of the outfit.  For traditional weddings, the photos tend to be of the couple and the party.  That is not necessarily true for weddings in Central Park.  Your photos will be of the two of you, and they will capture what you are wearing, but there will be many photos of the setting with the two of you in it; that's what you're going all that way for, right?  So, consider how you will look with Central Park and New York City in general as your backdrop.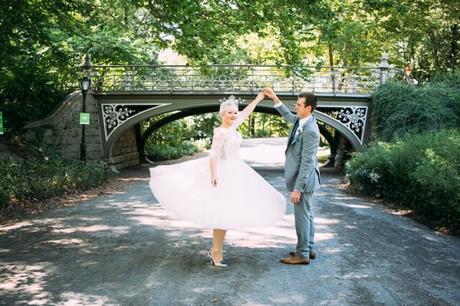 What else are you doing on your wedding day?
You will be actually getting married for just a mall part of the day.  You will probably be having some sort of reception, or a meal as a celebration, but what else?  Some of our couples have been all over the city taking photos, and some have been to a Broadway show, and many go on to bars in the evenings til late at night.  If you intend to wear your wedding gear for the entire day then it's worth thinking about all the other things you will be doing, and how much sitting and standing it will involve, and whether you will be comfortable doing it all.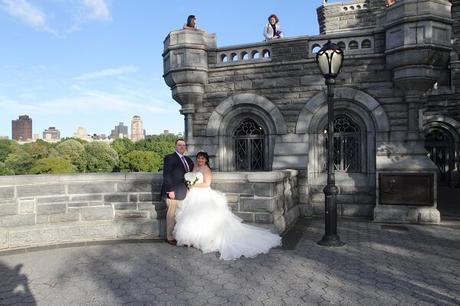 Get advice
If you are trying dresses or suits on in a dedicated store, then ask the bridal consultant or tailor for their advice.  Ask them how the outfit will travel because you'll probably be taking it on a plane.  Ask them what care it will need when you arrive in New York.  Tell them what sort of weather is expected, or possible on the day, and what you intend to be doing, and ask them what they think.  Will this fabric suffer in rain or humidity?  Will it cope well with sitting in a cab or dancing the night away?  They are the experts and they may think of things that you or I might not.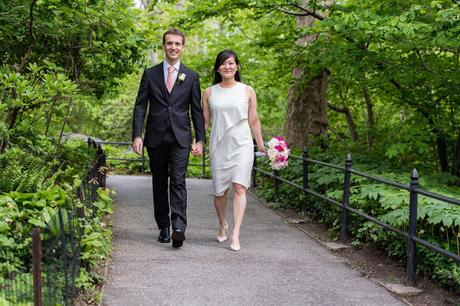 Is this an excuse to buy more than one outfit?
If you have a long day of photos and celebrating ahead of you, perhaps just one outfit won't do, and you decide that you'll nee to make a change part way through the day.  You wouldn't be the first to do that, and if it works for you then you should do it.  After all, you're only doing this once!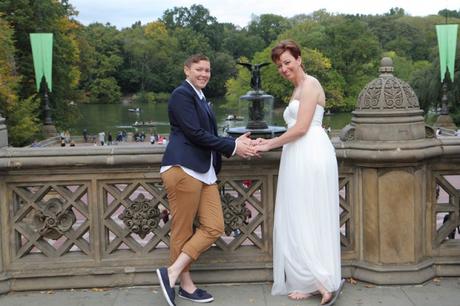 Deciding what to wear to get married in Central Park is just like deciding what to wear no matter where you are getting married.  But, because of all the uniqueness of the location and all the options that New York offers, there are a few other things to consider.  Good luck with your choice and enjoy the shopping!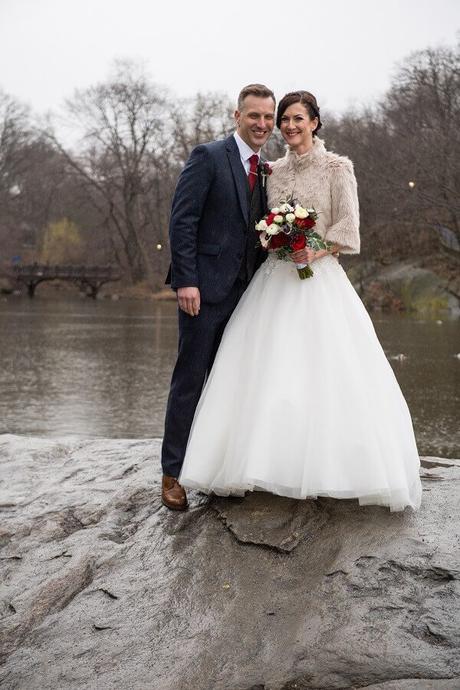 For more information to help you with planning your own Central Park wedding, with photos just about anywhere in New York, visit our website, or "like" us on Facebook, follow us on Instagram and follow us on Pinterest where you will find lots of lovely photos and many more inspiring stories of real weddings.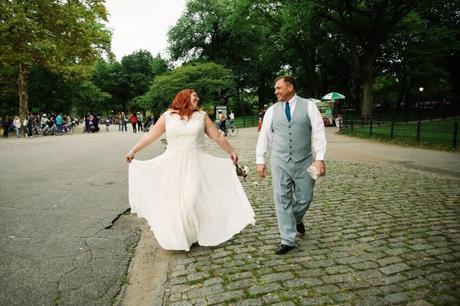 Advertisements