When you're invited to an Indian wedding or a multicultural fusion wedding with an Indian flair, you might wonder what the appropriate dress code will be. Check out these tips and tricks to find the best outfit for an Indian wedding.
Learn the fashion terms
Men will typically wear a sherwani, which is a long top over pants. Alternatively, you can also wear what is called an " Indo-Western suit", which is a mix between a sherwani and a classic suit. This may suit you best and make you feel more comfortable.
For the ladies, you may be asked to wear a lehenga or a saree. Lehengas are two-piece outfits with a top and a full skirt, while a saree is a garment made from a long piece of fabric wrapped around the body. These are two of the most common outfits for women at Indian weddings.
Remember there are multiple events
Indian weddings can last for several days, with different events taking place. If you are attending all events, you will need multiple outfits. If you're only attending select events, make sure you've chosen an appropriate look for the occasion.
For example, one of the ceremonies invites all women to get mehndi done by professional artists. Women can wear more casual outfits for this event, instead of the more formal attire which is saved for the Baraat, or the main ceremony.
Check the dress code
Traditional dress is not always a requirement at Indian weddings. Some couples will expect their guests to take part in their culture, while others will be OK with guests wearing Western attire, particularly at fusion weddings.
If you opt not to wear a traditional dress, you can wear a suit (maybe a colorful suit?), or, for the ladies, you can incorporate the Indian clothing style by choosing something light and flowy. For traditional Indian attire, you can find it easily online with sites like Nihal Fashions, or by finding Indian or Pakistani owned clothing boutiques in your area.
What colors are OK to wear?
Traditional Indian ceremonies look very different from Western ones in a lot of ways. For example, you won't catch an Indian bride wearing white! The traditional bridal wear is a red saree with gold accents and lots of jewelry. The grooms will likely be wearing a beige sherwani with red and gold accents to match.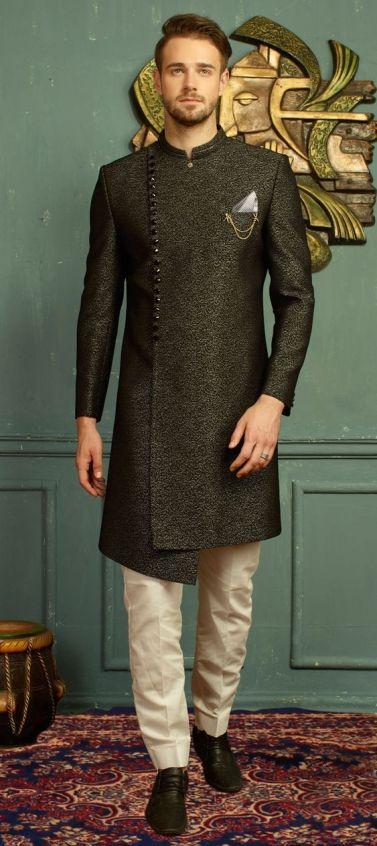 You can opt for just about any color other than these! Color is encouraged and you can find Indian formal wear in blues, greens, pinks, and purples. If you're the type who sticks typically to grey or black, this is your chance to step out of your comfort zone!
Be respectful to customs and cultures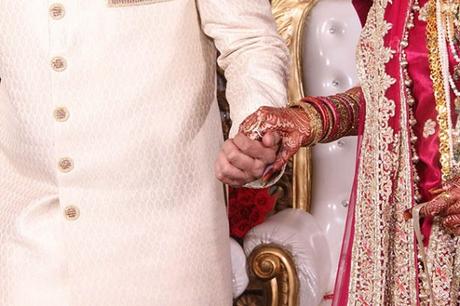 Traditional Indian weddings won't show a lot of skin. Shoulders, legs, and arms are usually covered, so you should make sure to do the same. Even if you're wearing a Western outfit, try to make it a modest one that doesn't reveal your legs or cleavage. Loose-fitting outfits that don't cling to your body are also important. Ideally, your Western outfit should cover the same amount of your body as an Indian outfit would.
You may also want to bring something to cover your head during the ceremony, particularly in Sikh or Hindu weddings. Women can bring a scarf or use the fabric from their saree, while men can bring a scarf or handkerchief.
All weddings are unique
Indian weddings can come in all sizes and styles. The couple themselves will decide what traditions to follow and how to integrate it into the wedding. As a guest, you can just follow their lead.
Fraquoh and Franchomme
Further reading:
Fusion Wear: A Case for Indo-Western Suits
P.S. We want to hear from you! How do you dress at an Indian wedding? What colors do you like to wear? Why? Share your feedback, questions or thoughts in the comments below! For more articles on style, fashion tips and cultural insights, you can subscribe to Attire Club via e-mail or follow us on Facebook, Twitter or Instagram!