There is always a lot of hype in what to wear but a great topic would be on how to dress affordably and what is in this season – Personally I love Melbourne Cup but I DREAD Having to find something to wear ( Writing this to you as I'm heading out tonight in an attempt to find something) Also points of difference whenit comes to attending Melbourne Cup Corporate Events or events with your friends socially.
The Spring a Racing Carnival is all about ladylike glamour. Its a time to channel old school elegance. Its dress code is published by the VRC and I know that this year apart from the usual request of don't dress like you're going clubbing, no to fake tan like an Oompa Loompa, but also a big no to bare midriff which is a current big fashion trend (and they will be turning people away from members areas and The Birdgcage if they spot an exposed midriff).
But that perennial question of what to wear still remains. Headwear is imperative. Don't go bare headed. Firstly if you want to do it well on a budget then you must work from the headwear down. Can you borrow from a friend who has a collection? Can you make something yourself? These are the wallet friendly options.
If you manage to borrow some headwear then plan your outfit around it. If you are going to make so something yourself then plan the rest of your outfit and make the hat. If you're wearing a feature head piece, keep your hairstyle simple.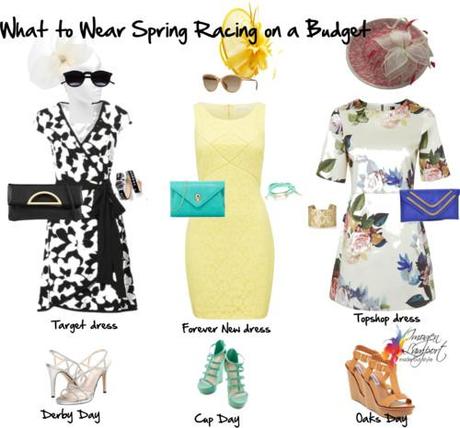 Spring racing on a budget by
imogenl
featuring avon watches

Topshop cream dress
4,535 THB – topshop.com

Forever New yellow cocktail dress
2,845 THB – forevernew.com.au

Missoni floral print wrap dress
2,245 THB – target.com.au

Caparros silver ankle strap sandals
1,295 THB – 6pm.com

Heeled sandals
1,005 THB – modcloth.com

Steve Madden platform wedge sandals
1,290 THB – nordstromrack.com

ALDO metallic handbag
1,295 THB – aldoshoes.com

Urban Originals skull backpack
1,265 THB – neimanmarcus.com

Dasein snake skin purse
970 THB – overstock.com

Shyla cuff bangle
1,150 THB – oliverbonas.com

Avon watch
1,135 THB – avon.com

Clasp bracelet
1,780 THB – kewelco.com

Scala floral hat
970 THB – bluefly.com

Forever New hair fascinator
855 THB – forevernew.com.au

Fascinator hat
970 THB – modcloth.com

Chicnova Fashion colorful glasses
245 THB – chicnova.com

Prada cateye sunglasses
7,060 THB – sunglasshut.com
}
Know your event dress code.
Derby Day is black and white
Melbourne Cup is all about colour
Oaks Day is floral or feminine
First shop your wardrobe. You may be surprised if you go through your existing wardrobe you will be able to create an outfit with a little thought and no extra cost. Or you may be able to style most of an outfit and only need one thing to finish off the outfit.
Consider your footwear. You'll most likely be doing a lot of standing, and often on grass, so make sure it's comfortable and fit for purpose. This season you will find block heels which are a great alternative to stiletto or wedge heels.
Midi and knee length dresses are right in fashion and suit the racing dress code to a tee.
The winners of the fashions on the field events are always demurely dressed, so take a leaf out of their books and do the same. Think 1950s elegance with a modern twist.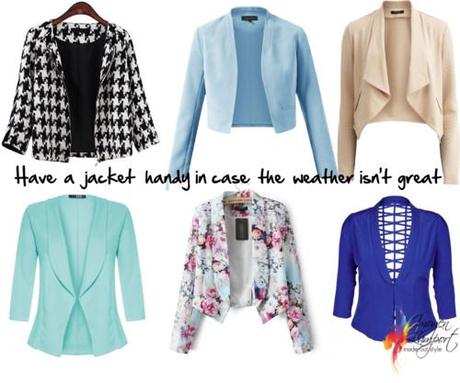 A Soring Racing Jacket by
imogenl
featuring a cropped jacket
}
Melbourne weather in spring is unpredictable, so make sure you have a jacket that can be added to your outfit should the weather turn cold. You can drape it over your shoulders if you want to channel some European chic.
As far as non official events with your friends,mid say ask the host what they would like you to wear, if they want full race day attire or just to come casually.