Hi Imogen,
I was wondering if you have any ideas to look tidy and classy whilst traveling by car. Many Australian ladies travel long distances by car for holidays or as a life style choice. My friend was dismissed as unworthy in a jeweller whilst wearing the traveling outfit adopted by most ( 3/4 pants, knit top and sneakers). The snooty sales girl omitted to notice the 7 blue diamonds on my friend's fingers and lost a very large sale!
We ARE judged by how we look which is simply the way of the world. I would like help to change this uniform. Bearing in mind that outback temperatures are enormous, stops are few and far between and mooching around on rough ground is part of the joy of this kind of travel.
Hope you can help as we are off from Central Queensland to Darwin (3000 kms) next month. I look forward to your wisdom.
Cheers Judy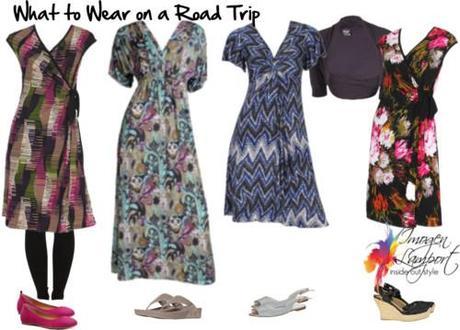 What to Wear on a Road Trip by
imogenl
featuring flat shoes
Paisley Kimino Maxi
/
Ziggy Bell Twist
/ Geo Wrap Dress Berry / Pink Flower Wrap Dress / Shrug Black
I'm not a fan of pants on a road trip. Pants can be quite binding and uncomfortable when you're sitting in a car for hours on end (which on any Australian road trip tends to happen as it's such a large place).
Instead of the standard top and pants, I recommend a dress, like any of those featured in this picture (all from Verily).
Look for a dress made from a non-crush fabric.
A pattern is great, it means that you don't need to accessorize (the pattern is the hero) if you don't want to.
A pattern will also help to disguise any stains, in case you spill a little of your drink on yourself when you hit a bump in the road.
Dresses like these won't grab or bind at your waist and make you uncomfortable while you're sitting.
The joy of  a dress is that it looks like you've made a real effort, when in fact you've just thrown on one garment.
If it's cool in the morning, you can add leggings and a cardigan, which can easily be removed as the day warms up.
Ensure the shoes you choose are comfortable if you're doing lots of walking, but you may want to keep a pair of dressier shoes to change into if you're hitting the shops.