Last week I posted a blog about how "pink is the new black"- and while that may be an outlandish statement to most of you (trust me, even I'm not totally convinced yet), it is always fun to actually see the progression of fashion trends. Just as skinny jeans got too slim, fashion turned our eyes to wide leg trousers. When rose gold was the "it" color to accessorize with, we were introduced to a whole new season of silver. The point is, fashion is always, always reinventing and refreshing the latest and greatest.
A few seasons back statement necklaces were fantastic pieces to really express your personal style with. Whether you went for a layered chain look, a tribal inspired piece or a bib full of baubles, a statement necklace was the thing to have. You could dress up a simple t-shirt and jeans with the right necklace and have it be the main focus of your outfit. Or you could pair it with a chic cocktail dress and still light up the room. While we still love a good statement necklace, especially for up and coming holiday festivities, we are happy to see a bit of a shift towards a new necklace silhouette that is just as versatile, dramatic and fashionable. Enter the large pendant necklace!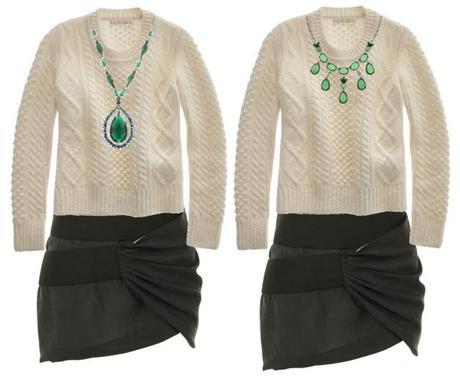 Large Pendant vs. Statement Necklace- what's your favorite style?
Besides a unique and edgy design on a chain, a large pendant normally comes on a long opera or rope length necklace, meaning the chain measures between 28" and 45" long. Consider this jewelry fun fact when deciding on a necklace: long strand necklaces give length and slenderize the face while multiple short strands add width. Not to mention, once you put on a statement necklace, you are cutting out the option of wearing any kind of chandelier or dangle earrings for fear of over-accessorizing. Aren't you warming up to large pendant necklaces now too?
Now, you may be asking, "How large is large?" and "How long is long?" when it comes to these trending necklaces, so we've taken some snapshots to show you just where these statement pendants will fall and bring an in-store shopping experience to you online! Here are some of our favorite large pendants that we think will make a fashion forward statement.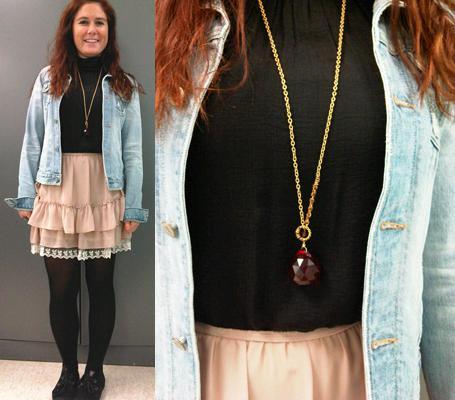 T.R.U. Red Gem Long Pendant Necklace
Straight from 1928′s newest brand, T.R.U. this Red Gem Pendant Necklace is hot, hot, hot! Now maybe I just like it because of my hair color, but with red being the "it" color of the moment, you can really dress up ANY outfit with this as the perfect pop of color. The chain measures 34″ long and the pendant is about 2″ long and 4″ around! With the brown cord accents to make it a bit more casual, you will never go wrong with this styling piece. Wear it with another, shorter pendant necklace for a double drop effect to make even more of a statement!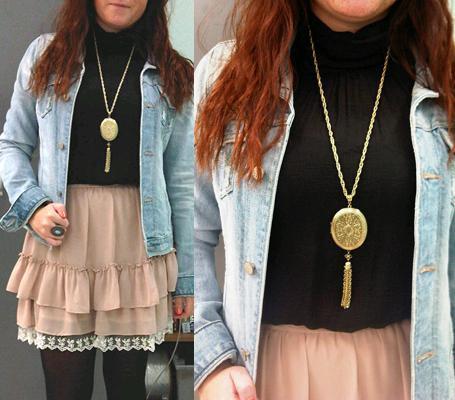 Golden French Chambre Large Locket Tassel Necklace
This large locket tassel necklace is the perfect blend of timeless and trendy! Even with a 2″ long locket on top of a 3″ long tassel, this pendant is light as can be unlike shorter, multi-chain or bejeweled statement necklaces. I love how the tassel adds just that extra bit of length below the pendant!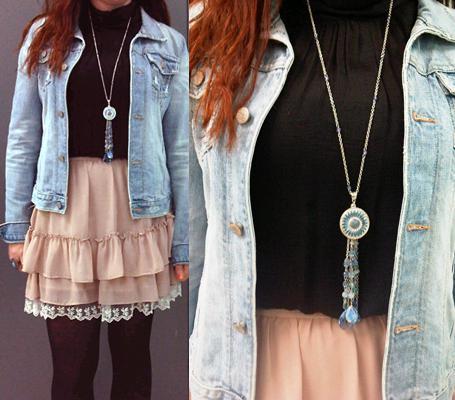 Blue Sea Treasures Long Tassel Necklace- on sale now!!!
For a more casual style yet still just as striking, check out this Blue Tassel Pendant Necklace. The multiple shades of blue jewels and beads look really great with denim, so you can wear any old t-shirt with your favorite pair of jeans and throw on this necklace for a whole new you!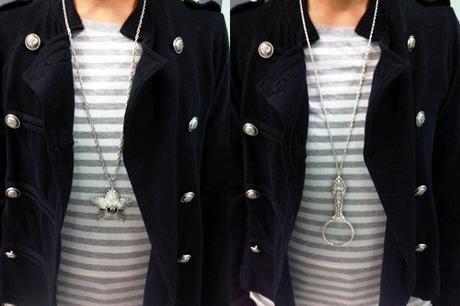 Stardust Moon Silver Large Pendant Necklace & Large Victorian Magnifying Glass Necklace
And since this is the "season of silver" Annie was nice enough to model some of our favorite large silver statement pendants! The difference between the two is like night and day; a sleek, modern star with metallic accents and a thick chain and a Victorian inspired magnifying glass with delicate vintage details. Either way, we love how they dress up a striped henley, especially with those great silver buttons!
Last but not least, we have one more large pendant that we think tops them all when it comes to making a statement. Still in production and coming soon to 1928.com from the T.R.U. brand, the Ethiopian Tassel Chain Extra Long Pendant Necklace is one of the more unique and radical styles we have at 1928 Jewelry. While most of the pendants above measure a little over 3″ long, this beautifully detailed pendant is 5″ long and 3″ wide! The only other accessories you'll need with this stunner is some major confidence!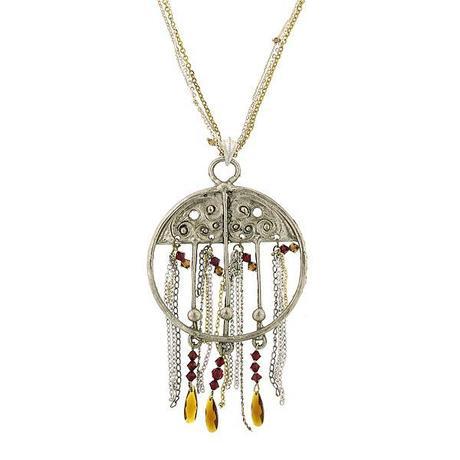 Coming November 2011!
We hope these shots, though casual and quick, helped you see the real size of these products! We know it can be hard shopping online trying to picture where something will fall on your neckline or how long a pair of earrings really is. If you want more of these style shots to see our products better, let us know and we'll be sure to include them more in our blogs and on the site.