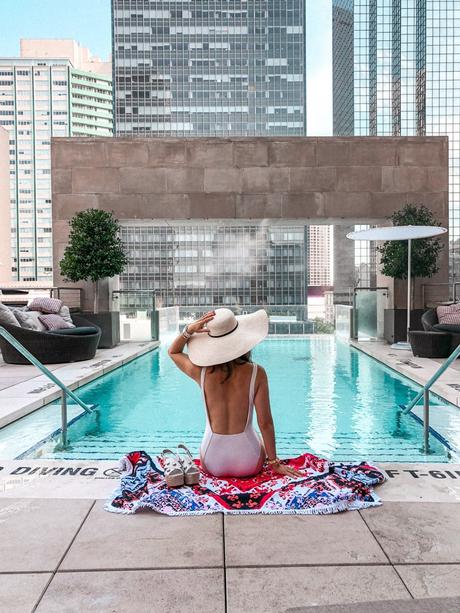 I 've been daydreaming about taking a resort or beach vacation trip with the family or maybe even with Mr. S only for an adult vacation. I told Mr. S that it may happen in a couple of years, but I'm resort ready now! Some of my friends are traveling to gorgeous destinations this season, so I thought it would be fun to pretend that I'm doing the same and blog about it. Let's chat about what we would wear for a resort or beach vacation!

Photography // Becca of , Angie Garcia Photography, and myself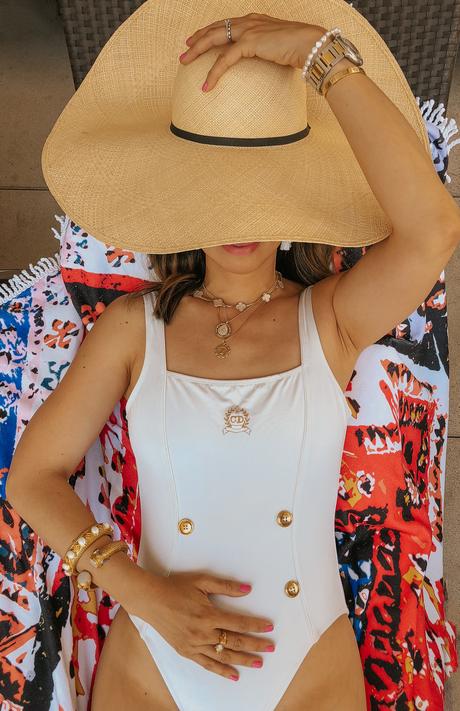 SWIMSUIT
If you're heading to the beach, a swimsuit is a no brainer, right?! Whether you're reading a book poolside or sipping a drink on the sand, do it in style with a chic swimsuit. The first rule when choosing a swimsuit is to make sure it celebrates YOU! Always go for suits that make you feel comfortable and confident. There are so many styles of suits out there nowadays, so grab a few of your favorites and start packing!
In the above photo, I'm wearing a vintage Dior swimsuit found at Vintage Martini during a Dallas staycation at The Joule (pre-COVID) for our wedding anniversary. The great thing about one-piece swimsuits is that they can double as a bodysuit!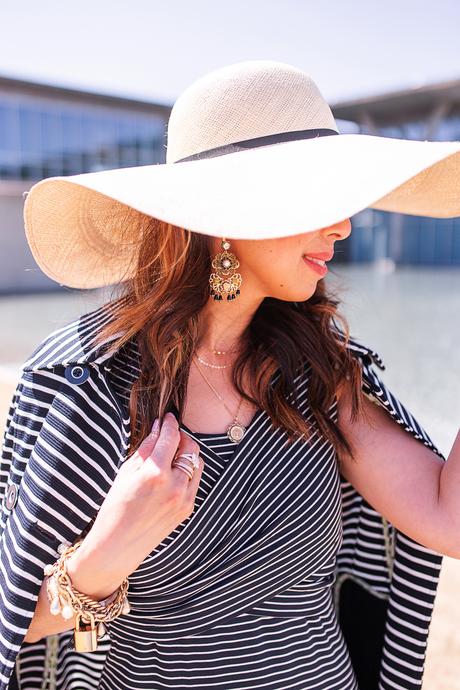 WIDE BRIM HAT
// original post here //
Protect your face from the sun and look stylish doing it! A wide brim hat is not only an on-trend fashion statement, they also are known to shield the rays on those sunny days. I will have to say, I'm a true believer in big hats like these! They're easy to style, comfortable to wear, and a sure-fire way to elevate any outfit you have on... even at the beach.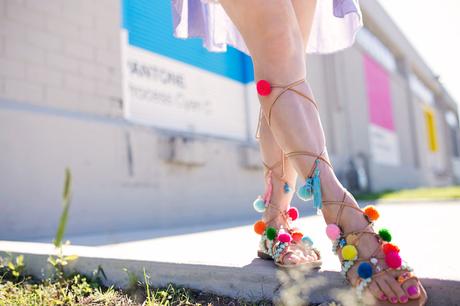 FLAT SANDALS
// original post here //
Whether you go with a fun style or a classy look with your sandals, these are a must when it comes to a resort vacay! I pretty much always overpack when it comes to shoes (and everything else)...am I the only one?! A woman can never have too many spring and summer sandals in her collection, and I definitely make sure to pack a different pair for every outfit.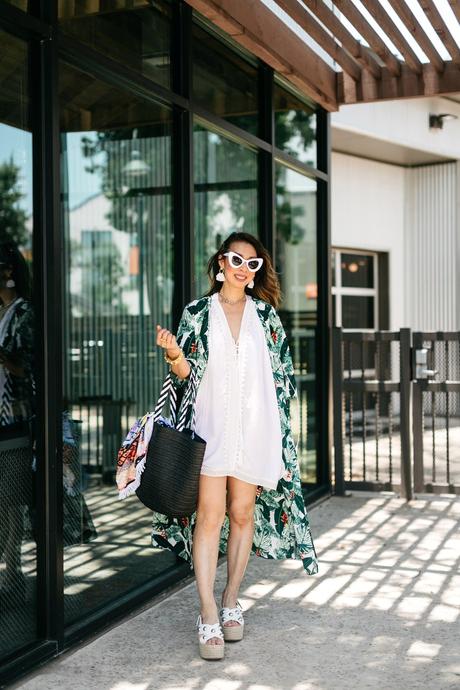 SWIM COVERUP
// original post here //
Another no brainer... the swimsuit coverup! Don't forget to bring these on your trip so you can easily run up to your room or to grab lunch on the beach without having to put on lots of clothes. Coverups are much more convenient than we probably even realize and there are SO many cute ones to choose from. Whether it's a kimono coverup or a simple slip-on dress style, you'll need multiple of these before you leave. I've rounded up some of my favorites for you!

THE STYLE Rx: Dresses are my secret on any vacation! Throw them on with some accessories and you look like a million bucks when it takes less than 5 minutes. If you hair is wet or messy, then pull it back into a low ponytail or bun for a chic and sophisticated look.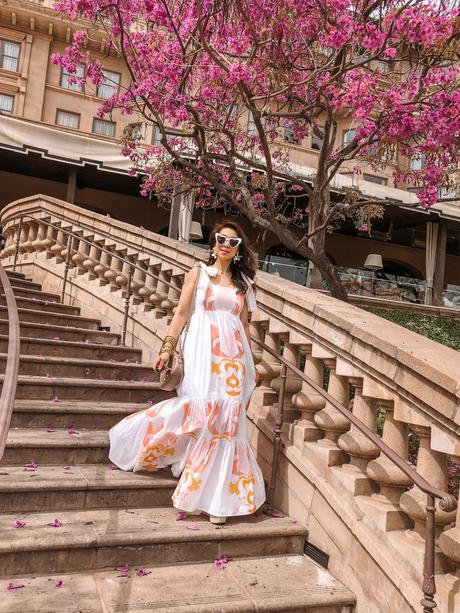 EASY TO WEAR DRESS
After a long day in the sun and sand, the last thing we want to do is get into an uncomfortable outfit for dinner. That's why I'm a big fan of easy to wear dresses! That's pretty much all I pack when it comes to a resort vacation. Whether it's a sundress, a midi or a maxi, always remember to pack a few dresses for dinners, date nights, and GNOs to end your fun day!
This Sheridan French Kelly maxi dress is one of my favorite resort/ Spring/ Summer dresses. I have it in two colors and it's so easy to slip on but still look chic and feel beautiful.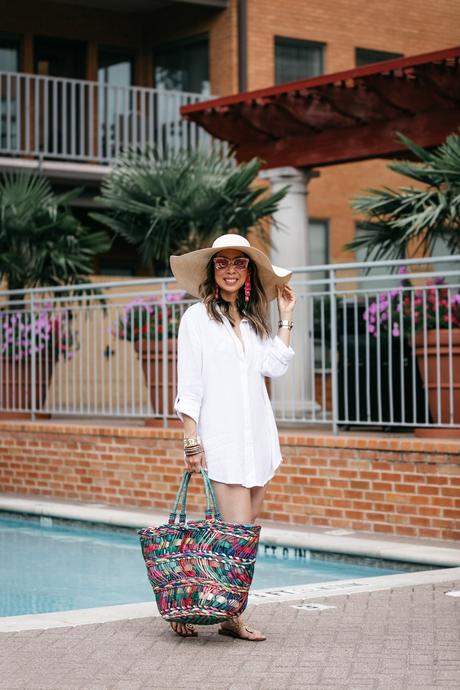 BEACH BAG
// original post here //
A beach bag is something you have to have if you're going on a tropical vacation! There have been a couple of instances I've accidentally left my hotel room to head to the pool or the beach without my tote and I felt so disorganized. A beach bag will hold everything you could possibly imagine from your books, snacks, towels, and sunglasses to name a few. If you're in the market for a new beach tote, I've rounded up a few of my personal picks you're bound to love.

WHAT'S YOUR NEXT BIG DESTINATION?
I told Mr. S that I would love to travel to somewhere tropical like Hawaii now that the kids are older. It may be a couple of years, but a gal can dream right?!
Happy Friday!! We've been enjoying the week in Hot Spring, AR for Spring Break. The kids have loved gem/ crystal mining, hiking, checking out the botanical gardens, eating, exploring downtown, and generally enjoying the outdoors. We've found lots of hot springs in the downtown and filled up our water bottles with at the fountains. It's been so fun and relaxing, but we head back to Fort Worth tomorrow. It's always sad when vacation is over, but we are lucky that we got to travel to such a fun place.
Thank you so much for stopping by and supporting SOS!
CHECK OUT MY INSTAGRAM SHOP HERE TO SHOP ALL OF MY INSTAGRAM LOOKS!
// STAY CONNECTED //
stay glam, do good