Podcast: Play in new window | Download
Does it drive you crazy to see your doubles opponents strategizing between points. It drives me crazy. I spend a lot of time on court wondering just what they can be talking about. In this episode of Tennis Quick Tips, I'm talking about communicating with your doubles partner and letting you know exactly what you can be talking about if you want to drive people like me crazy on court. You can listen to this episode by clicking on the media player above or by listening in with your favorite podcast app. You can also subscribe in iTunes by clicking on this link: tennisfixation.com/itunes.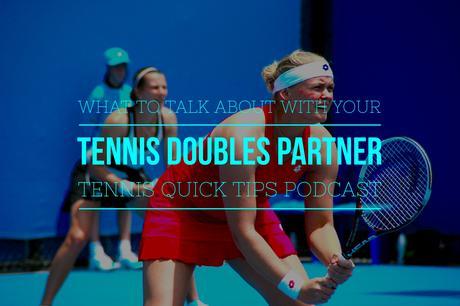 SHOW NOTES
Today we're talking about doubles and communicating with your doubles partner. Specifically, we're talking about what exactly you should be communicating about. So, I've got a question for you. Does it drive you crazy to see your doubles opponents strategizing between each and every point? Because it drives me crazy. Even if I'm 99% sure that they're talking about where to go for lunch, I'm not 100% sure that that's what they're talking about so I can't help but wonder, are they strategizing over there, trying to win the match? Are they changing tactics? Have they spotted some sort of weakness? Is one player telling the other player to go down the line because I've let one too many of those down the line returns go by?
If my opponents are talking to each other, I can think of all kinds of things they might be talking about. And it doesn't matter whether I'm right or not. Just thinking about it is enough to distract me a bit. And if I'm thinking about what they're talking about, I'm probably not thinking about me and my partner and what we should be doing to win the next point or the game or the match.
So how do you deal with these chatty strategizing opponents who are talking between each and every point? Well the answer, and it might surprise you, is - you don't! You don't deal with them because they're only doing what's right. When playing doubles, you should be a chatty, strategizing opponent too. You should be communicating with your partner after almost every point. That's what the pros do. In fact, I have a quote somewhere where Venus Williams says it's actually "clueless" not to be talking that often.
So that's what you should be doing too - talking to your partner and talking often.
Now, even if you're not a brilliant tennis tactician, there are lots of things you can be talking about to your partner between points. Here's a list of just a few things you might discuss:
Tell your partner about anything you observed in the warm-up about your opponents.

Talk with your partner about which of your opponents is weaker and how you're going to pick on that one.

When it's your turn to serve, let your partner know what kind of serve you're trying for. Are you going up the middle or out wide? Are you serving hard and flat? Are you serving soft and short? The kind of serve you're hitting might set your partner up to do something really great.

Let your partner know where you're going to aim your return. If, for example, you're going to try a down the line return, it's a good idea to let your partner know that because, if you mess it up and that net player gets a hold of it, they may slam it right back at your partner. So you want to give your partner a heads up that that may be coming.

Talk to your partner about different serves and returns that they might try. Give them some help in setting you up for a poach by suggesting the types of serves that they could go for.

By all means, let your partner know if you're going to poach. Because if you don't make that, they need to know to be ready to pick that ball up themselves.

Point out to your partner the types of set-ups that are causing your opponents to poach. Maybe your partner needs to hit a different type of return to stop that poaching. And that's something that I talked about in last week's episode on How to Beat Poachers.

Finally, talk to your partner about court positioning and whether you need to try something different. In other words, if everything is going wrong, maybe your partner needs to move back to the baseline with you or if everything's going pretty good, maybe your partner needs to keep coming up and playing offensively and aggressively and get up to the net.
So those are some really pertinent exchanges you and your partner should be having on court and I encourage you to, maybe not talk between each and every point, but start talking more. Start talking every few points. Or at least saying a word of encouragement or making some eye contact.
Now there are lots of really unpertinent exchanges you can have on court. You can talk about lunch. You can talk about where you're going to go shopping. You can talk about where you bought that cute little skirt that you're wearing on right now. Or you even comment on the great match the two of you played last week. Keep focused on your match, however, and just know that this constant talk and chatter gets in the head of some people, yours truly as I said at the beginning. But it is the best way to play doubles, to be constantly communicating and supporting your partner.
RESOURCES AND LINKS FROM THIS EPISODE
Check out these other great Tennis Quick Tips episodes for more tips on communicating with your doubles partner:
BUILD YOUR TENNIS FITNESS AND ENDURANCE
If you're really interested in building your endurance and fitness for tennis, I know you'll like my very first tennis mini-course, Simple Endurance Training for Tennis. For more information or to join the course, just click on the image below or visit: http://tennisfixation.com/endurance.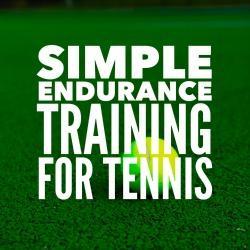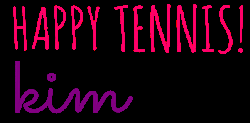 © Kim Selzman 2016 All Rights Reserved