When we began planning our "grand tour around the Czech Republic," Olomouc (oh-la-MOOTZ) almost didn't make the list. Okay, its Holy Trinity Column is a UNESCO World Heritage Site, but why drive into the middle of a city just to see it and leave? That sounded like a huge waste of time.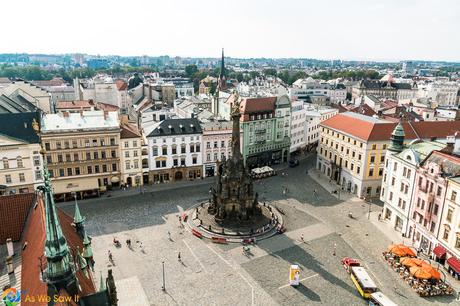 Shows you what we knew.
Two nights in Olomouc
We can thank our friends at Czech Tourism for changing our minds. "Spend two nights there and see the city," they told us. "You'll be really surprised."
We were more surprised to find out that Olomouc is the first place that Lonely Planet mentions in its e-book Secret Gems of Europe. "Olomouc is a sleeper," they write. "Practically unknown outside the Czech Republic and underappreciated at home, the city is surprisingly majestic."
Okay. We were in.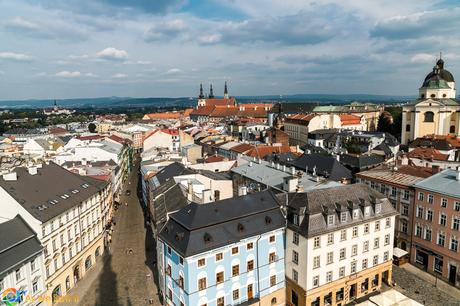 According to one legend, Olomouc was founded by the Roman Emperor Gaius Julius Caesar, and so he proudly sits astride a prancing horse on the square today. Whether true or not, it makes a good story.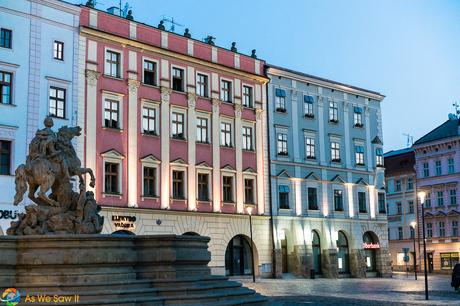 As the biggest town and capital of Moravia, Olomouc flourished in the Middle Ages. It was one of the most important trade and power centers in the region. As a result, it was important to the Catholic church and earned a bishopric. Unfortunately, it was sacked during the Thirty Years War and it lost its position as capital city to Brno.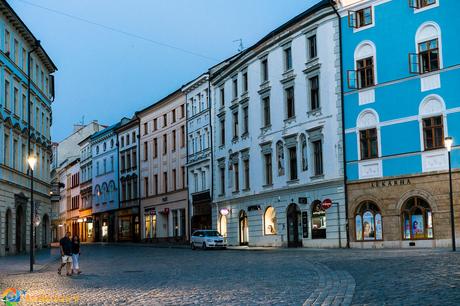 Fast-forward to today. Olomouc still retains its old and picturesque character, as well as everything from universities to sports facilities to public paths and gardens. With 100,000 inhabitants, it is now the fifth-largest in the Czech Republic, well known for its quality of life. Its population swells during the school year, when some 25,000 university students move into town.
True fact: Olomouc has the highest density of university students in Central Europe.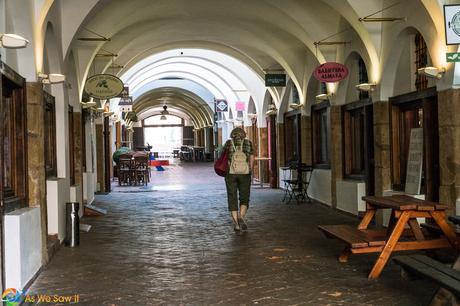 This quiet shopping area is full of beer halls and a central spot for student nightlife.
What to see in Upper Square (Horní náměstí)
Olomouc has two squares in the center of town: Upper Square and Lower Square. There is so much to see in the Upper Square that a hop-on/hop-off bus (our usual way to see a new city) could never do it justice. For one thing, you'd be sitting in one spot for a long time. Fortunately, the Olomouc Tourist Office offers a few inexpensive walking tours on their website.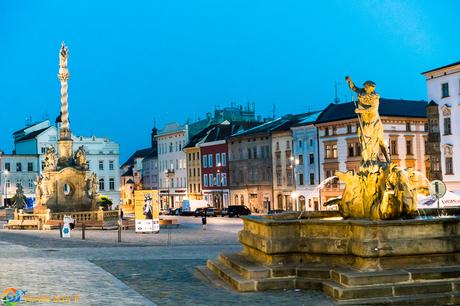 An even better alternative is to hire a private guide to show you around. Olomouc City Council and Central Moravia Tourist Association arranged one for us. We had never used a private guide before, but it was really nice to walk at our own pace and only see things we were personally interested in. Verdict: It's probably the best option if you have special needs or would like to focus on a particular interest, such as photography, religion or art.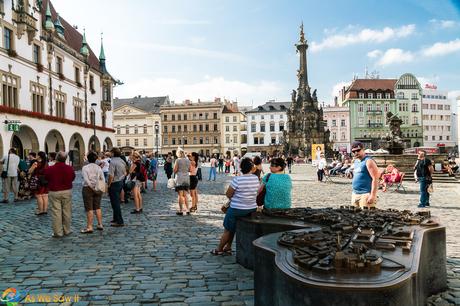 Tip: We thought Stefan Blaho was a great guide. Would recommend him. (tel.: +420-602-729-613, email: [email protected])
Holy Trinity Column
Holy Trinity Column was erected to thank God for ending a plague, which struck between 1713 and 1715. They must have been really grateful, because at 32 meters (105 feet) it is the largest free-standing Baroque sculpture in Central Europe. Actually, the column is large enough to have a chapel in its base.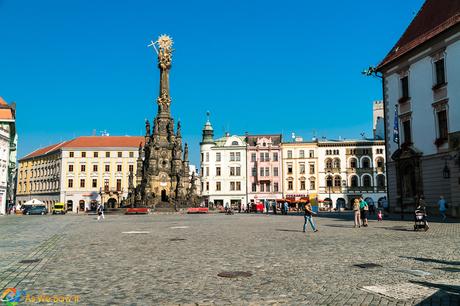 UNESCO calls it "one of the most exceptional examples of the apogee of central European Baroque artistic expression." All the artists and master craftsmen working on it were Olomouc citizens, and almost all depicted saints that were connected to the city in some way.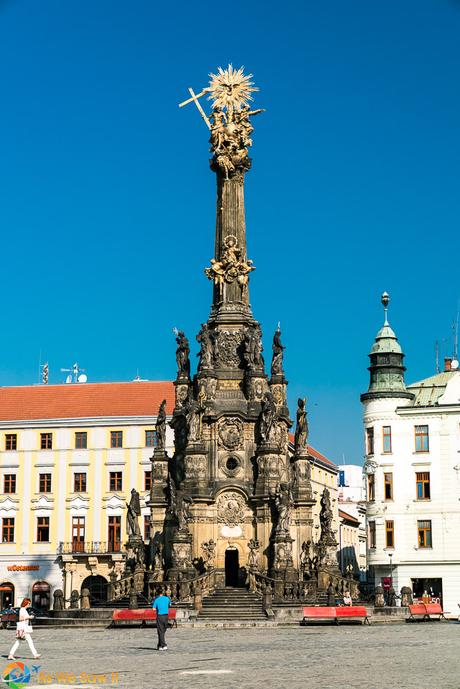 Tip:
A guide is available in the chapel from 9-5 Tues. – Sat. during the summer season.
Olomouc Town Hall
Olomouc Town Hall sits in the middle of Upper Square and dates from the 1400s. This is where you'll find the Mayor's office, the Tourist Center, an exhibit of Olomouc's history, and a unique astronomical clock.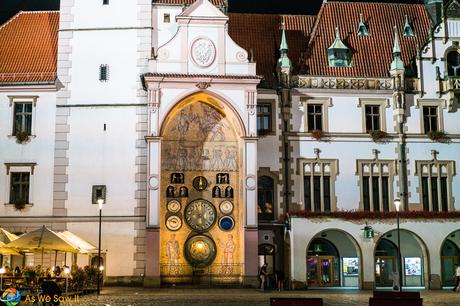 Town Hall has been expanded over the centuries, which you can see in its architectural details. The hall has a bay window from medieval St. Jerome's Chapel as well as a Renaissance loggia. There's also a cute dragon's head on a corner of the roof. We don't know when that was put there.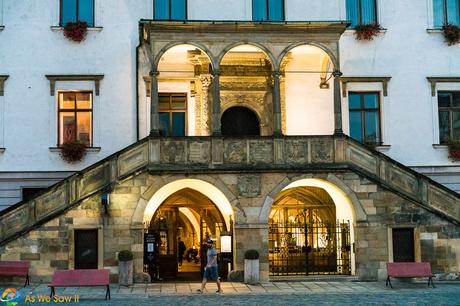 Tip:
Climb to the top of the Town Hall's tower for a panoramic vista of Olomouc. The tower is open twice daily by guided tour, at 11pm and 3pm.
The Astronomical Clock
Astronomical clocks do more than tell the time of day. They track the seasons, the position of the sun and planets, the moon's phase and which constellations are visible in the night sky.
Olomouc's 600-year-old astronomical clock is one of only two in the country (the other one is in Prague). Every day at noon the quirky astronomical clock chimes, blacksmiths strike their anvils and a procession of proletarian workers parade around to the delight of onlookers.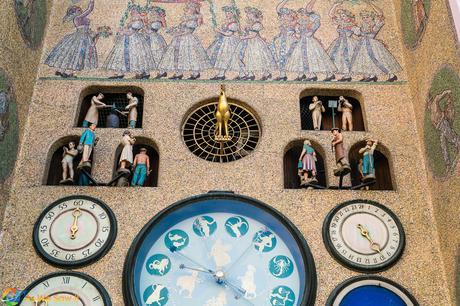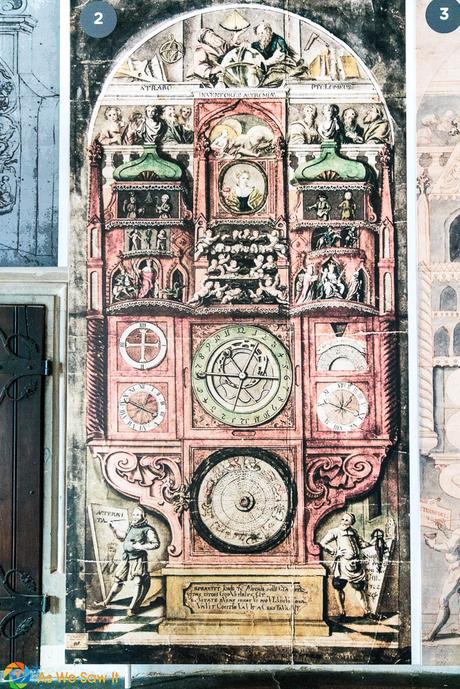 Here's a photo of what the Olomouc clock once looked like.
The clock was damaged during WWII and was only rebuilt after Czechoslovakia was in communist control. Saints, bishops, angels and so forth made way for builders, mechanics, a chemist, housewife and laborers. The 365-day list of saints (one for each day of the year) now included Lenin's death, Stalin's birthday, International Labor Day and the October Revolution.
The 5-minute performance might not be as entertaining as a YouTube video, but it is still one of the things you must see while in Olomouc.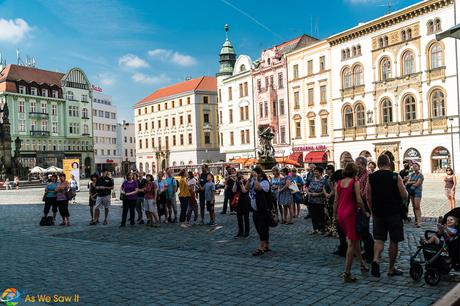 Fountains
Four Baroque fountains also grace Upper Square, one honoring its legendary Roman founder and others with themes from his empire's ancient mythology. You'll see children frolicking in them in warm weather and climbing onto the turtle sculpture near Arion Fountain year-round.
Caesar Fountain
Mercury Fountain
Hercules Fountain
Arion Fountain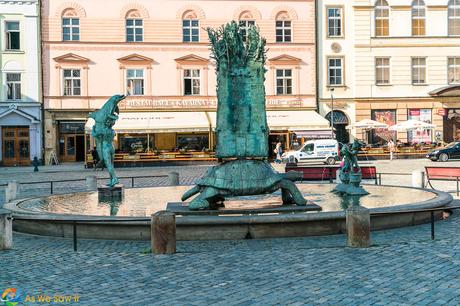 The Lower Square
The Lower Square is smaller but similar to the Upper Square. Two more Baroque fountains are here and each features a Roman god: Jupiter, head king of the gods, or Neptune, who ruled the sea.
At its other end is another plague column, crowned by a statue of Mary and surrounded by statues of eight saints. It's pretty, but not nearly as grand as Holy Trinity Column.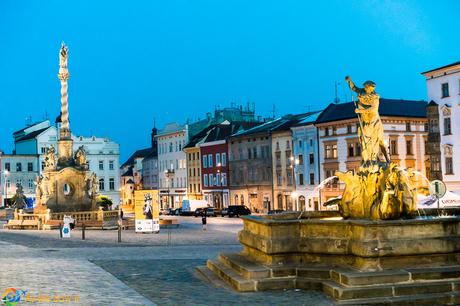 Archbishop's Palace
Built on the foundations of old Olomouc Castle, the early-Baroque Archbishop's Palace is city's most important museum and church. You can still see some of the castle's original foundations at the Archdiocesan Museum. The holdings here take you back 1,000 years. Don't miss the elaborate Troyer Coach, the 18th century carriage of one Bishop Cardinal Ferdinand Julius Troyer von Troyerstein (Liberace, eat your heart out!).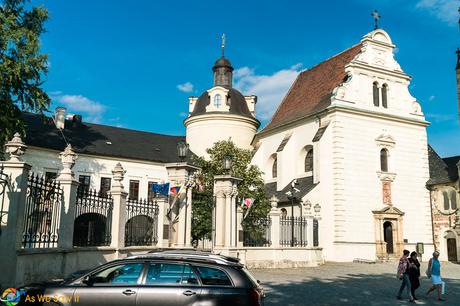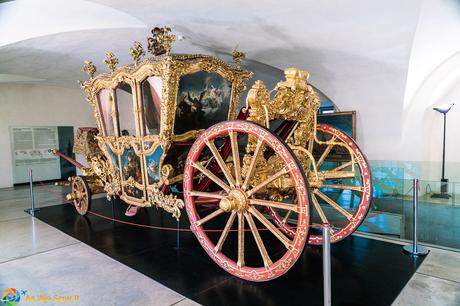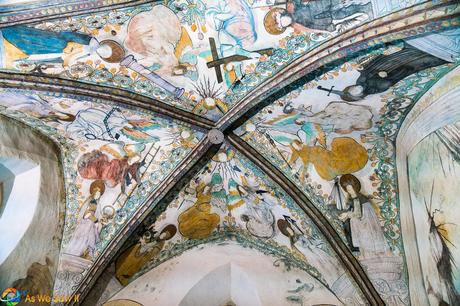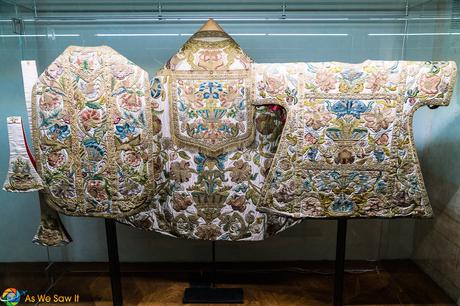 St. Wenceslas Cathedral
Just across the way, stands stately St Wenceslas Cathedral, an impressive oft-rebuilt Gothic church that lends solemnity to this quiet part of town. It wasn't always this peaceful: poor Wenceslas III met his untimely end in 1306 at a house just next to the church.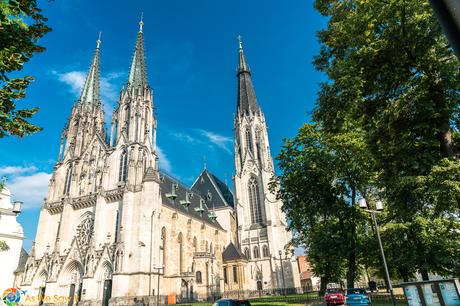 This is the only archbishop's seat in central Europe accessible to the public. It has always been the seat of Olomouc bishops and archbishops. Austrian Emperor Franz Joseph I was crowned there, among others, so it has its place in secular history as well.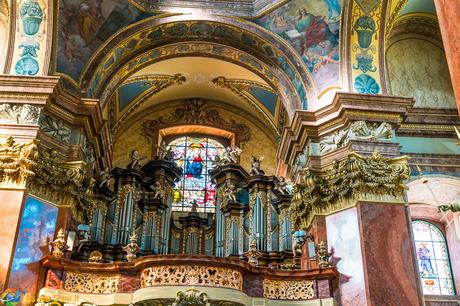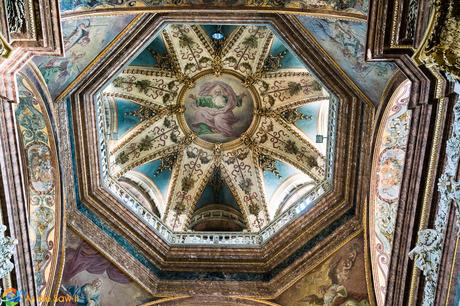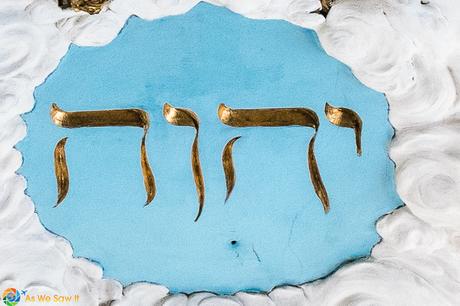 Olomouc Castle
Olomouc Castle has been a national cultural monument since 1962. Thanks to its many additions and renovations I doubt its original owners, the Premyslid family, would recognize it.
Let's not forget the food.
Every adventurous food lover should learn what foods are special to the region. Here the best known is Olomoucky syr, or Olomoucké tvarůžky. This is the only original Czech cheese, made from skim cow's milk and ripened until it has a strong aroma. The "stinky cheese" has been described in a variety of terms, the kindest of which was "an acquired taste."
Even so, it is a big part of the city's culture and history. They even have a festival dedicated to Olomoucky syr. Offensive or not, they are proud of it. And they should be, even if the cheese is best known for its aroma.
It is possible to follow a Biblical (clean eating) diet and still be an adventurous eater. Case in point: Limburger, which we tried just because it would make a good story. Once again we rose to the challenge. We ordered it as an appetizer for dinner.
"It's cheese. Made from cow's milk. How bad can it be?" Dan reasoned. "Worst case would be, we don't like it."
I took a sip of my male pivo and asked, "Um, if we don't like it, we don't have to finish it … right?"
Soon the waiter set a platter between us, holding a few of the semi-soft, golden-yellow disks along with thinly-sliced red onions, butter and sliced bread. Simply spread butter on the bread, add a disk of cheese, top with onion, then bite to get a little of everything at once. But no way we would do that before taking a whiff.
Dan: "The smell is not as strong as bleu cheese or brie. I don't think it's particularly offensive."
Linda: "I've smelled worse cheeses than this. But I don't see why they call it 'semi soft.' To me, the texture reminds me of hard rubber. My jaw is getting a serious workout."
Would you try it?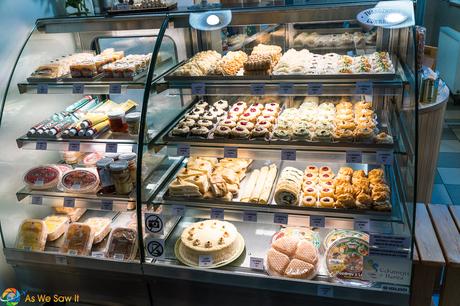 Where to stay
Our hotel was beautiful, but because it was nearby the university nightlife it was too noisy for our taste. Because we wouldn't stay there again and would not recommend it, we asked the locals for better suggestions.
Hotel recommendations from Central Moravia Tourist Association
High End
NH Collection Olomouc
Theatre Hotel
Theresian Hotel & Spa
Mid-range
Arigone Hotel
Hotel Flora
Hotel Ibis
Budget
Ubytovna Marie (hostel)
Inspired?
These tourist information websites have a lot of excellent information. Special thanks to them all for assisting us during our Olomouc visit.
Further reading:
Save this for later by pinning our photos to your Pinterest boards.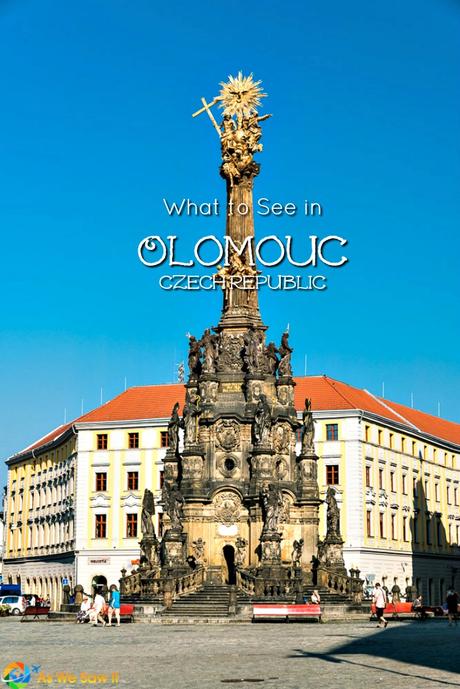 (Visited 7 times, 7 visits today)