What to Look For in a Good Internet Web Hosting Service
When it comes to creating a presence on the Internet, having a great looking and functioning website is only part of the equation. The other part is finding a solid web hosting service.  A web host is the server and the network that gets your website onto the Internet where it can actually be seen by your customers. There are a number of things you need to look for before deciding on the right web host for your website.
The Services
A web host offers you a service. This means that in order to find the right web host, you will need to ensure that the service you choose offers the services you need. The first thing that you need to take a look at is the bandwidth the host is offering. The larger the bandwidth, the more traffic your site can handle before becoming overloaded. Some hosts offer a huge amount of bandwidth, much more than you really need, and charge a premium for the service. You will want to work with a provider who can offer you the bandwidth you need and offer you upgrade opportunities as your business grows. In addition, good web hosting services understand that websites don't just come in one configuration. Some use Windows, some use Linux, and some use other operating systems. That's why they offer hosting services for different operating systems. And last but not least, you will want a service that can ensure up time. Your website is only good to you when your customers can see it.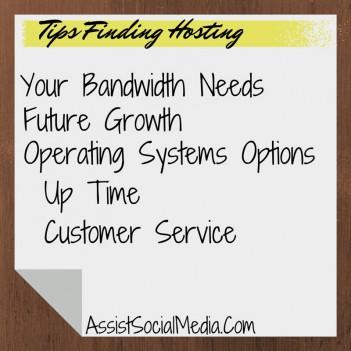 As with most other services, you can't make your choice for Internet hosting services based only on price. The most inexpensive options can be unreliable and the most expensive are often overpriced. Do you homework and comparison shop before you buy, choosing the right service at the right price. With Internet hosting services, you usually get what you pay for.
Customer Service and Support
Last but not least, make sure that the hosting service you choose offers quality customer service. You will need to make sure that if you experience problems that you can access someone who can rectify the situation or help you make updates to your site, whenever you need it.
 Hosting Company for a Website
Website hosting services are vital to the operation of your website. Choosing a good service will mean the difference between landing new customers and struggling with frustrating downtime and other outages. With so many options out there, it is important to do your homework before choosing your service provider.