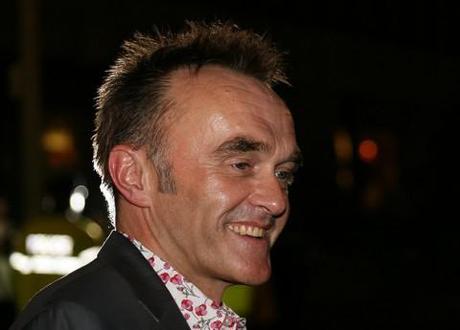 Danny Boyle, the mastermind behind the Olympics opening ceremony. Photocredit: Toronto Film Festival
The background
The Olympic opening ceremony will see the stadium turned into a version of the British countryside on 27 July. 10,000 people – volunteers – will make scenes with animals and landmarks like Glastonbury Tor. It's cost £27 million, and it's directed by Danny Boyle, who directed Trainspotting and Slumdog Millionaire. One billion people across the world are expected to watch the ceremony. Four Maypoles will represent the four home nations, decorated with a thistle, a leek, a rose and flax.
Expect village sports, farmers, picnics, rivers and fields, as well as up to 70 sheep, 12 horses, cows, goats, chickens, geese, ducks and sheepdogs, and two moshpits – one resembling Glastonbury Festival, one the Last Night of the Proms. There will be real grass, a real oak tree, and clouds hung above the stadium, one of which will rain, reported the BBC, "provided the British weather does not provide its own." Commentators are variously excited and inert.
"I've been astounded by the selfless dedication of the volunteers, they are the pure embodiment of the Olympic spirit and represent the best of who we are as a nation," said Danny Boyle, quoted on the BBC.
The ceremony will show a Britain inspired by The Tempest
It won't be "queues at Heathrow" and "opportunistic entrepeneurs hawking 50p umbrellas," said The Times. Inspired by The Tempest, this will show an island "full of noises, sounds and sweet airs." The show will be "idyllic, but not naive."
Let Danny Boyle stick to his artistic vision
What's an opening ceremony? asked Charlotte Higgins on The Guardian. It's got "diplomacy, politics, flag-waving (literally), sport and art." But it looks like Boyle's got it right, and she expected that there would be "surprises" in store. It'll combine "spectacle and glamour" whilst being "communal and inclusive." Just let Boyle's "integrity of vision … remain unsullied." Hopefully, he'll have "clung on to the spikiness and wit" of his work.
Britain wants spectacle – let's hope Boyle gives it
The problem is, said Grace Dent in The Independent, that we want MORE. We want Kanye West "on a 50ft pink neon sugarcube." We want "40,000 LED Xylobands." We can't let our "glee levels drop" to "mild elation." Still, her appetite was "whetted." She gave her predictions: "The climax of the rural tableaux will be a Ukip bore, played by Martin Clunes, chasing Team Somalia round the track, accusing them of syphoning diesel out of his LandCruiser."
Oh dear, who let Britain throw a party?
In America people were less excited. Caity Weaver on Gawker said "the world felt all the air leave its body as it suddenly reliazed that London has no idea how to throw a cool party." The rainclouds – so England has "perfected raincloud manipulation technology and is using it to bring more rainclouds to England?" And they can only spring to nine geese? "There will also reportedly be an undercurrent of "British humour," most likely manifesting itself as brief periods of awkward silence."
It seems Danny Boyle has based his Olympic opening ceremony on Farmville designweek.co.uk/news/london-20…

— Janice Turner (@VictoriaPeckham) June 12, 2012