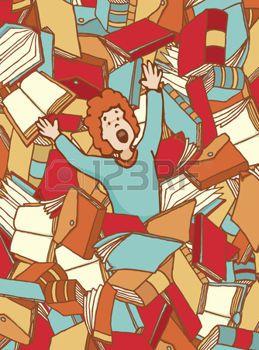 June has been my least favourite reading month of 2016. Or more specifically the 13 th May - 20 th June.
I've read plenty books during this time, some of them great such as Nina Is Not OK, The Last of Us, Not If I See You First, Carry On and The Light of Paris. As a book blogger and a book lover this should be a good thing. Right?
Totally wrong.
Most of the pleasure I get from reading was sapped right out of me during this time.
Let me explain.
In the middle of May I was auto-approved on NetGalley by HarperCollins UK. They're a big publisher so this is a huge deal to me. They published George R. R. Martin's A Song of Ice and Fire series so this is like finding a golden ticket inside a bar of chocolate. Trust me.
Eager little book beaver that I am, I immediately went onto NetGalley to take a peek at my auto approvals shelf - and nothing made much sense after that.
I saw this title I wanted to read - and that - and that - and this one too - and a couple of titles from another publisher who auto-approved me - and some read now titles that look super awesome - and some other titles I absolutely had to request - and THE WORLD HAS GONE BOOK MAD - AND I CANNOT BREATHE FOR ALL THE BOOKS CRUSHING ME - AND MY POOR WEE KINDLE MAY EXPLODE IF I SEND ANY MORE BOOKS TO IT!!!
Within about ten minutes my to read shelf on NetGalley had almost 30 titles. This might not sound a lot considering a read about a blogger who had 500 titles on their shelf. However, it takes even a book obsessed nut like me a decent time to read 30 books.
It takes even longer considering I don't only read NetGalley books. I also read the following:
Book for Popsugar Reading challenge
Book for TBR Pile Reading Challenge
A non-fiction title once a month, usually at the start
A book borrowed from the Kindle Unlimited service
A library book (alternating between digital and physical copy)
A collection of poetry
A collection of short fiction
See where my problem lay?
I gave myself a goal to clear all the titles I had on the 13 th May by the 18 th June. I actually achieved this by the 20 th June but two extra days is neither here nor there.
I knew I'd need to knuckle down so I had to abandon both reading challenges for the moment and focus on NetGalley. At one point I was reading 9 books at the same time, with at least 4 being for NetGalley.
I didn't get the same amount of pleasure from reading during this mad month. It felt like a chore. A small part of my book lover soul died every time I glanced at my NetGalley shelf and saw the titles were STILL in double figures after I'd read so much my brain exploded and started to drop out my nose.
I actually felt like crying on the 20 th June when I posted my final review for my NetGalley back log and knew my sanity could gradually return. I now have 3 new titles ion my shelf and two I'm currently reading. I have re-earned my 80% feedback badge.
Hats off to HarperCollins UK for offering so many excellent books that I want to read. A few more have been added that I hope to read soon.
NetGalley should really allow you to limit your shelf so you absolutely cannot have more than 15 or 20, maybe 25.
I've picked up Popsugar Reading Challenge again but I'm not even at the halfway mark so I'm not sure I will finish the challenge this year. This is very odd considering I'd finished the challenge this time last year. Damn you NetGalley for your bookly seductions.
I haven't picked up the TBR Reading Challenge yet because I'm finishing off my non-fiction choice this month so hope to be completely back on track by the end of the week.
Going forward I will be reading the following at the same time:
NetGalley title
Popsugar Reading Challenge 2016 title
TBR Reading Challenge 2015 title
Kindle In limited title
Library book
Poetry Collection
Short fiction collection
I will alternate the TBR Reading Challenge with a non-fiction book once a month.
And I absolutely will not let my NetGalley shelf grow beyond 10. Or 15.
I've also decided to only do the Popsugar Reading Challenge every year because I find that more than one challenge takes all the fun out of taking part.
I'm also going to add more content to this blog. At the moment all I post is book reviews. I'm going to look at posting more content including books that I've recently added to myself whether bought, borrowed or otherwise or book news and stuff like that there.