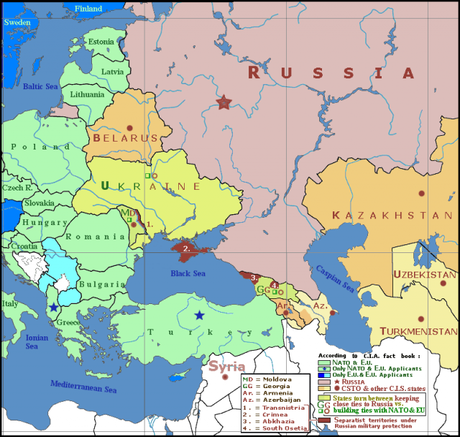 "Geopolitics South Russia2" by Spiridon Ion Cepleanu – https://commons.wikimedia.org/wiki/File:Geopolitics_South_Russia.png. Licensed under CC BY-SA 3.0 via Commons.
Over the past several months, CIPE intern Ann Sander Nielsen conducted in-depth research and analysis of one of the most troubling features of the break-up of the Soviet Union: the secessionist wars of the early 1990s, which ended without clear military or political resolution, leaving behind so-called "frozen conflicts" and leading to the emergence of new, unrecognized, separatist states.
These issues are topical today, with the unrecognized Russian annexation of Crimea, the annexation of South Ossetia, and the ongoing separatist conflict in Ukraine's Donbas region, among other developments, demonstrating that the post-Soviet space is still struggling to chart its political direction and settle on its borders.
The recent signing by Georgia, Ukraine and Moldova of Deep and Comprehensive Free Trade Agreements with the European Union, viewed by some as the first step on a long road toward eventual European integration, may create additional pressure to resolve the status of the breakaway regions in these countries.
I worked with Nielsen to publish her research in this month's Economic Reform Feature Service article, which looks at the political and economic factors that shape the de facto states of Eurasia's frozen conflict zones.
Nielsen has also used her research to prepare a series of case studies, which CIPE will be releasing on this blog over the coming weeks, analyzing specific conditions in a number of the separatist regions in more detail. The first of those will look at Moldova's breakaway Transnistria region.
Read the article here.
Marc Schleifer is the Regional Director for Eurasia & South Asia at CIPE.