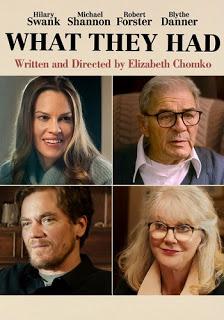 21 January 2018.
It took me two months to watch this
What They Had
(2018).
The film was neither too long nor too boring. Quite the contrary. It was challenging because it conveyed the complexities of families facing the challenges of a neurocognitive disorder, such as Alzheimer's Diseas.
What They Had focuses on one family's response to Ruth, the matriarch (played by Blythe Danner) when her memory problems lead to her walking away from her husband, Norbert, (played by Robert Forster) and their Chicago home.
This is frightening enough when people wander in nice weather. However, Ruth has disappeared into the city during a snow storm.
This becomes a catalyst for the son, Nick, played by Michael Shannon, to find what he concludes is the most obvious response: place mother in an assisted living center.
Their father, Norbert, disagrees--vehemently.
He's the local child. He recently opened his own bar, and the many acts of care have been making it difficult for him to focus on work. Consequently, Nick calls his sister, Bridget, (played by Hilary Swank), and asks her to fly in from out of town in order to persuade their father to place Ruth into "a home."
What follows is a series of tense conversations between and among all the family members, with additional complications coming into focus with Bridget's daughter and husband.
I could relate to these complex situations and intense emotions--so much so that I had to stop watching. I wasn't crying; I was writhing in pain.
This may be helpful for people before their family has to address changes to memory and mobility. But I find that I am usually more reactive than proactive. Viewers might find it instructive to view another family addressing similar issues. And maybe others will find a way to watch the entire 101 minutes of the film in one setting.