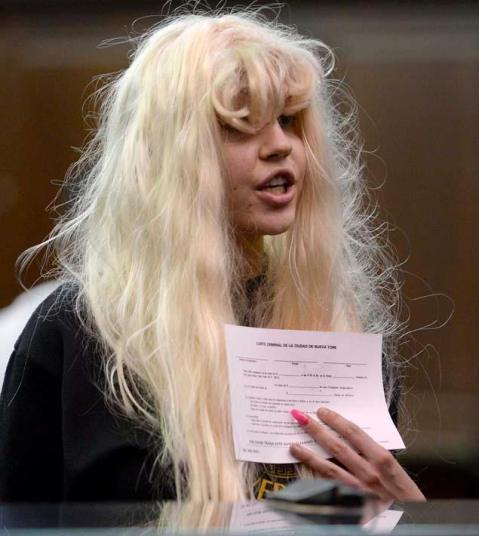 That is the question I am left pondering every time I see the former-Nickelodeon star in the media.  Amanda Bynes was a star in the making.  She had a hit TV show ("What I like about you") and was paving the way to a good career in show-biz.  But, somewhere along the lines she fell off the wagon in the past few years and has transformed into a Lindsay Lohan wanna-be.
Amanda Bynes appeared in court the other day.  She was accused of throwing a "bong" out the window of her hotel room.  She denies the allegation.  Her judge warned her that he would set a steep bail if she misbehaved before the next court date in July. 
You'd think Bynes would at this point realize she needs to clean up her act.  Well she isn't.  She took to her Twitter account to lament how she needs a new nose job after seeing her mug shot.  Seriously?!  This is what you are concerned with at the moment.
I think there are a few factors in her current state:
I don't think she has a strong enough support system, if one at all.
I think the grand media attention she receives only fuels her craziness (same goes for Lohan).
I think she needs immediate psychiatric and possibly substance-abuse assistance.
Last year, I posted that I thought Lindsay Lohan needed to go to jail.  I stand by my post.  I think these child-stars don't understand consequences.  Their celebrity has allowed them to legally get away with crimes and behaviors that otherwise would send "regular citizens" to jail.  This sense of entitlement does nothing to treat their array of issues.
Furthermore, these girls feed on media attention.  I think they do outlandish activities because they feel like they aren't being ignored.  They crave the attention they received when their careers were still relevant.  I think people should stop stalking their every movement.  I hate how we reward bad behavior with media attention.  If these girls can't clean up their act they need to go to jail.
I hope Amanda Bynes gets the help she so obviously needs; because frankly what she has become is NOT WHAT I LIKED ABOUT HER.
What do you think?
Email: [email protected]
Twitter: @adrakontaidis & @talkrealdebate