Jordan Spieth caught the golf bug as a youngster watching the Byron Nelson tournament live in his hometown. Phil Mickelson's father helped spark a love of the game and watching Tiger Woods on television helped inspire practice with success on the course for Jason Day.
How did you catch the golf bug...from a family member, friend or, perhaps, by tuning into a Shell's Wonderful World of Golf as a kid? For me, it was my husband's doing - after I questioned him a bit about the game, he purchased a set of golf clubs off of the internet and brought both the clubs and me to a qualified instructor saying, "here, you teach her." This was one of the best things he ever did for me...the game has improved my life in so many ways.
If You Are Reading This Blog, You Probably Have The Golf Bug in a Big Way. If you use golf terminology on and off of the golf course and can name every golf club in your bag (including shaft), if your swing thoughts break into the middle of a conversation, if you are passionate and obsessive when talking about your game, you've caught it.
Do you listen attentively when golfers offer advice to each other? When pros give golf tips, do you pull out pen and paper to take note and watch drill videos from golfers like Jordan Spieth and Bubba Watson with the hopes of gripping and ripping it with ease?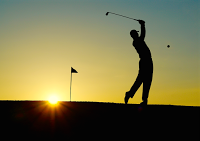 For beginners, catching the golf bug is the incommunicable moment which comes from hitting that one shot which takes off; tempo is effortless, swing is easy-breezy and belt buckle points at the target ...all with a flourish. You say to yourself, "I can do this!"
As you progress as an amateur, the golf bug transforms itself - you want to know more - you learn the basics of swing, hit several shots in succession which don't dribble down the fairway and even begin to place shots in the areas which your mind visualizes. When you hit that one shot which you saw a pro hit on television and it goes in the hole for birdie or eagle...you're hooked for good.
You may or may not want to immediately step out onto a golf course - it took me over a year to make the transition from driving range to evening, nine-hole rounds - this period gave me time to practice and improve upon the basics but you might be in a hurry to test your soundness on the course.
The golf bug is no ordinary virus - it transforms itself over time. You go from learning about hitting shots to shot-shaping, you want to improve so you begin to consider not just aiming and shooting but course management to avoid trouble.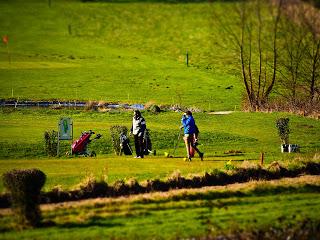 For those golfers who have taken this journey and have years of study under their collective belts, the golf bug may take on an entirely new dimension. Where you previously might have been watching You Tube videos on grip, stance, alignment and the forty-yard flop shot, you might now be watching more technical directions.
Professional golfers share their drills and tips with the public to show that even amateurs, with a little practice and if they follow specific directions, can become the next Jordan Spieth, Phil Mickelson or even Arnold Palmer.
After Jordan Spieth's win at the Colonial, Golf Digest quickly came out with an instructional video from his swing coach, Cameron McCormick. The "Heart Array" teaches amateurs the art of shaping the ball using three different trajectories.You'll notice at the beginning of the video, even Spieth has a little trouble getting out exactly how he wants to teach people his method.
Yes, as the golf bug takes hold, it never lets go. The quest to get better is endless - the bug keeps you adapting to new conditions and ever challenging situations...it keeps your mind fresh and your body healthy. Keep feeding the golf bug and sharing its strong grip so that it grows and thrives within other hosts and helps continue to grow the game.
Have you given the golf bug to anyone - have you received the golf bug from someone? Share your story in the comments section of our golf blog and on Twitter @Golf4Beginners.
Tweet this blog… Your followers will thank you!
photos: Pixabay.com