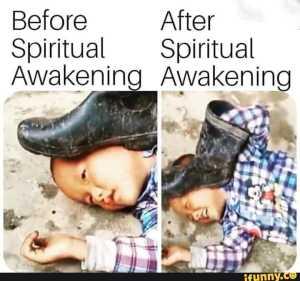 I absolutely love this photo. A few months ago I posted it in the entranceway to one of the yoga studios where I teach. It sits at eye level directly across from the bench where people sit down to take off their shoes. I love the chuckle of familiarity that flashes across people's face when they see it. There is a certain point in our lives when we realize that the only thing getting in our way is us. Even though we understand that theoretically, it can still be hard to see exactly how we are blocking ourselves from the things we desire.
Each of us live in a storyline about who we are. Our storylines have a tendency to limit us. I have been road-blocked by "the story of me" many times. My story caused me to take a painfully long detour from a career I was always meant to have and I would absolutely still be on that detour if I didn't take a good, hard look at my story and consider that, maybe, it wasn't telling the whole truth.
Your stories have been your stories for a really long time and have become part of your belief system. Because of this, they are hard to see and unpack on your own. Trying to explore your story with a loved one can be tricky because, on some level, they count on you staying in your story, so they can stay in their own.
Your story helped design the life you are currently living. If there are patterns you want to break or areas in your life you want to shift, taking a look at your story is a good place to start.
THIS FEBRUARY I am excited to share with you a new workshop called Uncovering Your Stories: An Exploration of Inner Shadow where I will help you explore the ways in which your stories are holding you back. Uncovering Your Stories will expand your perspective, so you can see yourself and the world around you through a clearer lens.
Uncovering Your Stories workshop includes:
4 group gatherings with an intentionally small and intimate group
private coaching calls between sessions (valued at $100ea)
ongoing individual support from me throughout the course
reading material between sessions to reinforce topics covered in group sessions
video recommendations to watch between sessions (optional)
practice with a self-knowledge tool that you can continue to apply throughout your life
ongoing peer support with a set community of people during the month and beyond
an opportunity for deep, authentic connections with a group
What can this work do for you?
Uncovering Your Stories will help you be
more honest,
more intimate,
more forgiving,
more present,
more open to other people's quirks and
MUCH MORE lighthearted about the parts of you that you were once so critical of.
Are you ready to Uncover Your Stories, so you can bridge the gap between the life you are living and the one you really want? 
Claim your spot and let's begin.