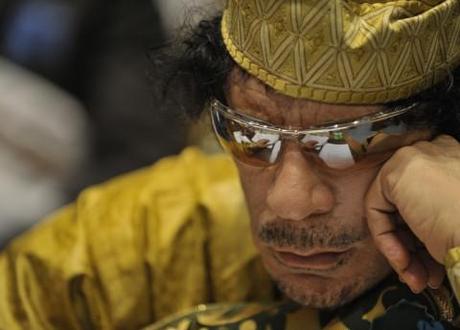 Muammar Gaddafi - not quite Saddam Hussein. Photo credit: U.S. Navy photo by Mass Communication Specialist 2nd Class Jesse B. Awalt
So how come David Cameron gets a free pass? The example was there. Blair blew his premiership on a war he a) lied about, b) lied about, and c) lost. Iraq is now a fully functioning suburb of Tehran. It was a disaster. Afghanistan? He did it again.
The Murdoch spat may have kept it off the front pages, but Cameron's Libyan adventure at a time when the coalition's cutting to the bone is costing billions, it futile, bogged down in the desert and is officially endless. We will be there "as long as it takes," said Foreign Secretary William Hague last week. "As long as it takes" – his words, the man who told us Muammar Gaddafi was on a plane to Caracas.
For what? One reason, the same reason Blair couldn't wait to buy into Iraq and then double-down in Afghanistan: To show the world Britain punches its weight. What weight? The sun set like a cowpat on this small offshore island before most of us were born.
The Libyan intervention is an intervention into a civil war in a country nobody understands, into a country where you can't trust anyone. The Libyan intervention is a mission with no end in sight and a pre-failed money-chundering act of hubris when the evidence was staring everybody in the face. We've lived with Blair's bodybags for ten years. Is Cameron blind? Did anybody point out Gaddafi's not Saddam? Of course he was threatening to go into Benghazi and hunt them down door to door. Madmen like Gaddafi talk molten trash, when they find themselves in a corner they come out talking, it's what their audience demand. Does anybody remember the Mother of All Battles?