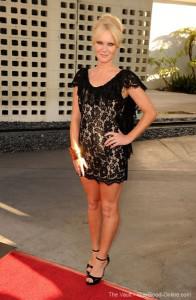 Tara Buck
Tara Buck has been working steadily since Season 4 of True Blood, wrapped.
Tara reported to The Vault that she is in an upcoming episode of a new NBC series and is also just finishing up two new films. Read about them below:
TV Series
"Prime Suspect" opposite Maria Bello. Prime Suspect is expected to air on NBC early to mid October 2011. The series is an remake of the UK 1991 series that made Helen Mirren famous and was seen in the US on PBS.  It is set in New York City (originally to be in San Francisco, but New York was thought to be grittier) and is about Jane Timoney, an iconoclastic female detective who wants to make it in a tough New York precinct that is dominated by men.
Two upcoming films:
"K-11" directed by Jules Stewart with Goran Visnijic, Kate del Castillo, D.B. Sweeney and a host of other really talented actors. The film is about a record producer who comes around after binging on drink and drugs. He finds himself in a section of the Los Angeles County Jail reserved for homosexuals, which is ruled by a transsexual named Mousey. Tara plays the part of Crystal and she says that she just finished shooting last Friday.
"Boot Tracks" directed by David Jacobson (Down in the Valley & Dahmer) with Michelle Monaghan, Stephen Dorff and Willem Dafoe. This film is currently filming but should be finished by mid September.  Tara plays the part of a blond mistress.  The story revolves around Charlie Rankin, who has recently been released from prison, seeks vengeance for his jail-house mentor William "The Buddha" Pettigrew. Along the way, he meets the ethereal, yet streetwise, Florence Jane. They embark on a unlikely road trip, careening towards an unlikely redemption and uncertain resolution.
Be sure to keep an eye out for Prime Suspect in October and for the release dates of Tara's two upcoming films.