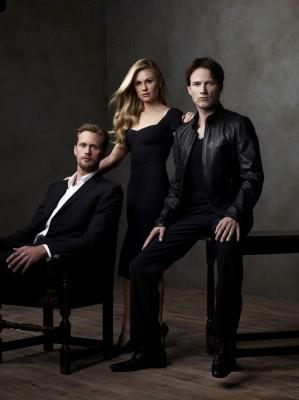 It seems the triangle between Bill, Sookie and Eric will get even more complicated in Season 4.
In the article from the Hollywood Reporter below we get info and opinions from Alexander Skarsgård, Anna Paquin, Stephen Moyer, Alan Ball and even Charlaine Harris about the threesome's three sided love struggle.
When we last left Bon Temps, Sookie (Anna Paquin) had cut her ties with vampires Bill (Stephen Moyer) and Eric (Alexander Skarsgård) after she learns that the former was a spy for the vampire authority from the later. As the battle for her heart waged between Bill and Eric in Season 3, Sookie winds up ignoring Bill's advice and saving Eric from a sun-fueled death.
It's a hard battle to fight when both your love interests constantly find ways to screw the other over. Which is why Paquin says Sookie "is going it alone at the beginning" of the season.
"At the end of Season 3, she tells them both to get lost," Paquin told The Hollywood Reporter at Tuesday's Hollywood premiere.
While Paquin feels it "would be very impolitic to declare a side between Bill and Eric," Team Eric may have the advantage.
ERIC AND SOOKIE
Suffering from a case of amnesia at the hands of a powerful coven of witches, "the Eric you thought you knew is gone and it changes the dynamic between Eric and Sookie as well," Skarsgård says.
While the former vampire sheriff may still be physically strong, the tactically smart guy is gone and must learn how to navigate in the world, which is where Sookie comes in. One thing, however, remains: "The attraction to Sookie is still there," Skarsgård teases.
So does this mean there's a shot that the steamy shower sex scene between Eric and Sookie from author Charlaine Harris' Sookie Stackhouse books is a go?
"Everyone wants to know if the shower scene will be in there that makes the fourth Sookie book the most popular book. We'll see! I don't know!" Harris told THR.
SOOKIE AND BILL
With his spy games for the vampire authority are now public record, and Sookie officially giving her former fiancé his walking papers, what's next for Bill?
"Bill basically says Sookie's needs and what she wants are more important than his own," creator Alan Ball tells THR. "That's love."
So what's a single vampire looking for love going to do? "Bill has decided to enjoy bachelorhood while he can," Moyer says.
"He makes the decision that if you love somebody you have to set them free and the only way for him to possibly believe that there might be a chance for some rekindling down the line is to let her be the person that she needs to be," he adds.
With no other choice but to let love go — and enjoy bachelorhood — Bill's hope still springs eternal when it comes to a reunion with Sookie.
"I think he loves her so much that he knows he has to step back," Moyer says. "Hopefully at some point, there's a glimmer of hope in him that maybe somewhere down the line something will happen. But at the moment, he knows it's not going to be now. She's got some mending to do. He knows the first person who's going to step into that bridge is Eric and he has to let it be."
source: hollywoodreporter.com